Amazing Spider-Man #666
creator credits
http://marvel.com/comic_books/issue/35513/amazing_spider-man_1999_666
bring on the variants!
http://www.bleedingcool.com/2011/07/26/yet-more-amazing-spider-man-666-covers-for-tomorrow/
http://www.comicartfans.com/gallerypiece.asp?piece=768381&gsub=115462
The number is an omen usually associated with Hell and THAT put the Hell in 'helluva fun read'. Every page had something to talk about - favorably, for the most part. Speaking of signs, one that a comic book is really good is when you can read a reprint of it 1 month later and still enjoy it. It was good how the
Spider-Island: Daily Bugle (2011) #1
already-praised freebie ends up looking when inserted into the main story.
Just SOME things really liked:
-neat gimmick iffff each ish shows an added leg count on the cover
-pleasant PrevPage
-ALL the combination great art
-brilliant splash page art
-copying Batgirls w/the Spiderfreezerang
-Angelica calling herself his Amazing Friends
-the IDEA of Peter making the Spiderfreezerang BUT reeeally wish they wouldve emphasized it is extremely early/experimental stages in order to rationalize why it is NOT being used universally
-decent character moments for Horizon folk in such minimal facetime
-Carlie's Spider-moment
-fretting after "WE NEED TO TALK" w/his false assumption
-hilarious reader insight alone that Hobgoblin saved Spidey
-reaeder respectful scene of closure with FEAST, giving May a scene and possibility that maybe more than bedbugs were being secretly checked for
-wonder how much marketing is getting for product placement
http://www.bleedingcool.com/forums/showthread.php?45719-Amazing-Spider-Man-666-A-Deal-With-The-Devil&p=215937
? Saw Harley neatly displayed in
Secret Avengers 15
too!
-intro of Lenny and MAGLIANO along with fair gambling puns and Jackal making the main story scene
-reserving judgement with the plotting the FF course in ASM
-MJ!!! Even 1 panel is better than 0
-Venom props/footnotes/mission along with concerned followup with Betty. His cover story w/her is great too
-reason for an exorcist
-the BND Easter Egg. At least its not being ignored. It will be great if Mr Slott can clean that continuity mess up ASAP
-repeated showings of Spidey changing his costume every issue is reasonable given he is using the (distasteful) tech. Nicely fit into the dialogue here
-the return of The Poker Game! No telepaths allowed!
And the post-FI assumptions to be made.
-more Shang and Madame! The dojo and divination aspects are handled well without tripping Spidey up or ruining the wonderful pacing of this ish. Really think the "WILL HE KILL?" question will play an entertaining climax
-the double spread is spectacular precident for the CBMB too
-nice segue placement to Carlie's upcoming reveal:
http://comics.cosmicbooknews.com/images1/ajun11/amz667p/images/image0004.jpg
-so much Spider-verse goodness to digest with those few closing pages in Warren's Lab
-fantasty fun final page
AND for anyone who cant/wont afford the 3.99 but still would appreciate some found links:
p1-6
http://www.comicbookresources.com/?page=preview&id=9298
http://imageshack.us/photo/my-images/32/1309548937.jpg/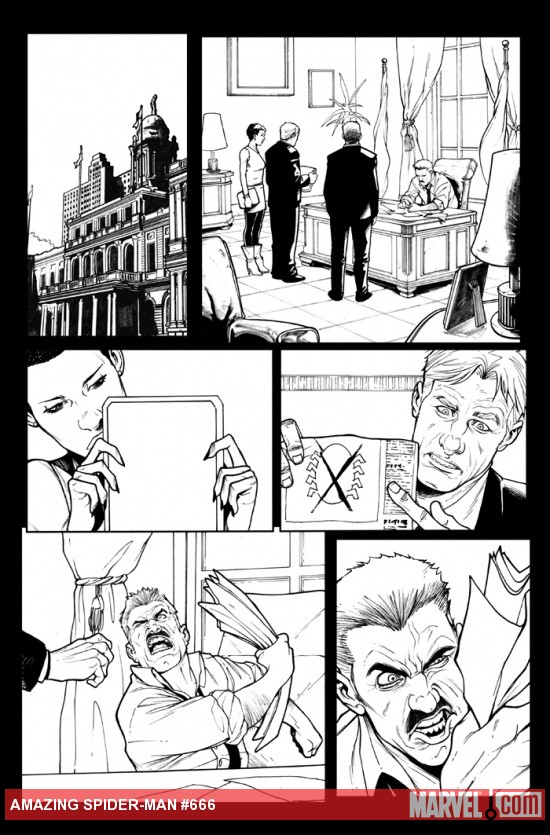 p8
http://www.comicbookresources.com/prev_img.php?disp=img&pid=1305313498
http://imageshack.us/photo/my-images/7/1309548967.jpg/
p13
http://i.annihil.us/u/prod/marvel/i/mg/6/20/4dcc351498b03/detail.jpg
p15
p17
http://comicboards.com/php/show.php?msg=fantasticfour-2011072813052735
p18
http://www.thevenomsite.com/2011/05/asm-666-preview-sketch.html
p22
http://members3.boardhost.com/H4H/msg/1311873132.html
p29
http://imageshack.us/photo/my-images/837/1309548997.jpg/
p32
http://comicboards.com/php/image.php?msg=smb-2011071123443203&att=SICHECKLIST.JPG&fullsize=yes
p33
LETTERS PAGE! Yea! (Was he 'hinting' MJ was going to die as Cassie suggested??!! Or referring to a new Web Woman?)
c667
http://4.bp.blogspot.com/-zQBgSZrPZeI/Tdx22WgITQI/AAAAAAAADkk/fV9gNRt-1RI/s1600/Amazing%2BSpider-Man%2B667.jpg
Full disclosure
http://forums.comicbookresources.com/showthread.php?p=13543702#post13543702
Smart poser persons picked here (though MadameWeb wouldve worked too):
---
Still missing my brother...