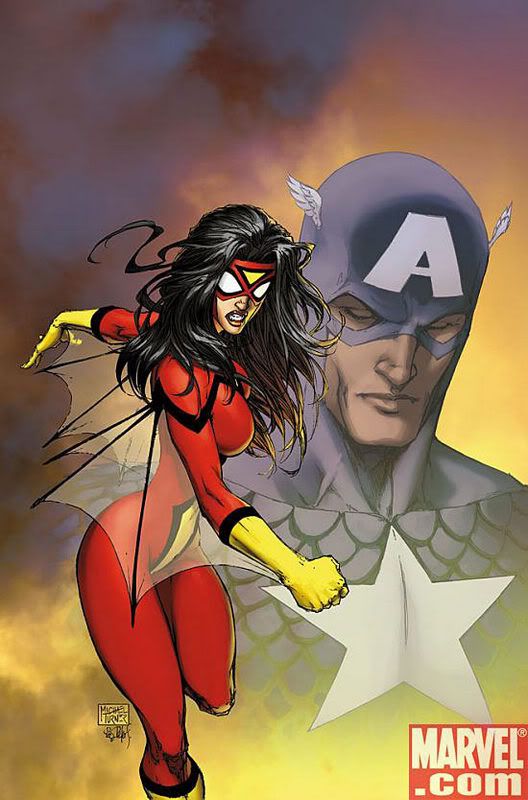 http://www.marvel.com/catalog/?book_id=6297
Touches liked:
-Horn of Gabriel being reused
-Very nice cover
-small time villain and delusions of grandeur
-Trenchcoat
-reliable Wong (Pabst!)
-Iron Man not present because of continuity
-'Yellow shirt and tiara'
-POKER night!
-comment about mixing masks with poker
-Wolverine has time to 'show up' with the Cap news (and there were probably lots of good reasons why IM couldn't do the same)
-a BIG old Mavel style fight
-Carol's comeback to Namor's pontificating
-Namor knowing about the missiles
-Atlantean justice for TS - move over Nitro
-'The greatest'
-'Shadow the kid'
-Blood stains
-'Good. That's all that matter.' attitude for Ares
-overall the split stories were independant of each other but still were balanced enough to read simultaneously
Just wondering:
-the glove on the Bugle sets the mood very effectively but just wondering how often it the exact same image will be reused (seen it lots already) as 1/23rd of the money paid for post-Cap related comics
-Starbucks facade must be using a great deal of energy - just like Sentry's tower used to when cloaked but writers didn't know it was cloaked all those years
-Spidey STILL crying?!
-why would Rand spot everyone? - what's the point of serious poker ('course Ben d'probably be happy take anyone's money even if it's all Danny's)
-prefer Shark's orange color, as if he'd care for a fashion change
-Sentry psychiatrist appt. excuse - okay, can see Jack Of Hearts being excused for medical reasons but not sure Sentry should qualify, for THAT psyche reason, if he is a full time member
-there were only 2 monsters that I saw, why would Carol not give Wasp and Widow a shot at TS since her powers are more suited to the big threats of Giganto and Godzillawannabe
-why doesn't Maine deploy it's Initiative Team? - it seems like they'd exist continuity wise but maybe not
-Wasp against Giganto - why bother, and surprised about another consecutive outward expression of her fear, in the heat of battle, that've read
-Young Avengers at the Sanctum - it's just that their continued presence around the New Avengers post-CW was revealed to me in this matter-of-fact manner though it's prob because I'm way behind on my YA reading
-Sentry flinging monster into space(killing it) instead of trying an ocean instead
-wonder if Spidey could've been an exception for Wolvie sheathing his claws in a fight for a change