This issue was... meaty.
New Avengers Annual #2
2¢ added to the excellent posts here:
http://www.comicboards.com/avengers/view.php?trd=080131164019
http://www.comicboards.com/avengers/view.php?trd=080201152333
http://www.marvel.com/news/comics.2318.Weekend_Preview:_New_Avengers_Annual_%232
Nice detailed cover pose. Not sure about Echo's hand - tatoo with disappearing ink - or her army boot type soles.
> > What continuity?
> > On one hand, WWH has to happen before the New Avengers left for Japan. Spider-Woman was with the New Avengers during WWH. She left the team before they got back to the Sanctum from Japan. Apparently, the whole Zom thing during WWH is the reason for Strange's ineffectiveness this whole time.
> > However, Echo and Ronin (Clint) were also with the New Avengers during WWH, which means they had to have gone to Japan first.
So true! Nice detailed effort with the Prev Page. Very reader friendly to name players. Although the roll call is appreciated the time placement concerns of the NA and the villains (noted in linked threads) makes it frustrating/jarring to a significant degree.
> > Due to Parker's appearances in DD
Hope that this placement is revealed in story - next issue!
When Pepper Potts says 'multiple helicarriers' that seemed like a big ('by the way') revelation to me in Order#7. Here, again, if implies only one Helicarrier that serves as unique HQ. Plus, Hill should be calling in Clay Quartermain and his USA mystics instead of depending on Haiti.
Can accept her spilling her guts but who smacks Tigra? Jigsaw?
What line from Ghostbusters did Spidey joke about? Could use the
here.
Fiiiinally: Echo says, "What did he say?"
> > there's a big fight, and then Doc Strange knocks everyone out. The end. It really wasn't worth the wait...
Fair point. This MOE should do 'some' kind of LASTING damage. Not reset heroes to status quo at the end of the day. Waiting to see if a villain died... *rhe*
> > Or Centurius cloning the original.
Madame Masque is thaaaat intuitive to accuse him of 'demon' collaboration? Did not realize the cloning expertise of Centurius either.
> > I guess he wanted to avoid any collateral damage (after aunt May...).
> > He grabbed the baby to get it out of harm's way. He didn't want it to be caught in a stray blast or something, and guessing he knew that Jessica would chase after him.
Like the Spidey sequence logic with the baby snatching and Jigsaw scene.
Like the Chemistro break in method - conditional on getting Hood's help to help him SEE the roof.
Ronin looks not ready and yet he just threw numchuks. Assuming he just wears the mask for ONLY combat uses, at this point, since he unmasks at the clean up.
> > 3. Wong Unleashed!
Everyone fights crappy and poorly. The closed quarters were magically expanded? Except Wong - now, THAT is the Wong I know. He faired better than Logan vs Hood a few issues ago!
Why does Laser say 'Oh No' to Spidey and how could he not do more damage to soooo many targets? Oh, except Logan the easy gutless target - go figure.
Like the SHIELD surveillance presence and Easter Egg truck (am ticked was sick & missed the season premiere).
Is that really an Iron Fist glow or just a glow? Let's just see how cliche Razorfist's cut turns out to be.
> > I like that Tiger came to help..
Me too! But don't like not knowing HOW she got there.
What about magic defenses in the Sanctum? Other than the you-wouldnt-like-me-when-I'm-angry Doctor. This issue has him back to looking like Dr. Skrange again.
Okay, this Wong I don't know so much. Not so much that he fixes the spells but he fixes the ones used by Skrange. And whattaya know the Doc CAN teleport - and multiple times. It's plane... err.. plain as day here.
Liked the use of Lightning Storm a lot.
Carol had the continued specific interest in the Cage family as in MA8. Hmmm. And 'letting them go' was a repeated theme from that issue. Came across as criminally redundant. KUDOS to that SHIELD Agent
-who deserves a promotion!
- for challenging this (reader-understandable) gesture of hers.
> > After being quite wary of Bendis' portrayal of Parker Robbins, I'm pretty satisfied now. No two writers are going to have the exact same characterization for any character, and when I read the Hood, he still sounds reasonably the same as he did before. However, he's obviously upgraded his powers.
The Hood talking to his invisible demon? Hmmm. Initial concerns of his handling have been waylayed some with intriguing attention this character is getting.
> > and uh oh, Jessica finally decides to register-- does the baby have to register? and will Stark expect Jessica to snitch on her husband? oooohhh....
Jessica making a family decision without Luke? Jessica flys under SHIELD surveillance but manages to get to the Tower unarrested? Cant wait to see how Tony reacts.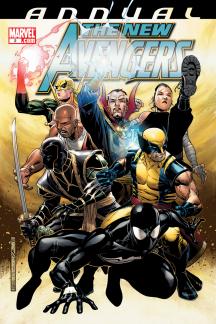 ---
Caption Contest at:
Favorites Survey at: