[NEWS]


Moderator





Member Since: Sat May 17, 2008



Subj: Return of THE UNSTOPPABLE WASP
Posted: Tue Jul 24, 2018 at 05:07:31 am EDT (Viewed 564 times)
Is this a BIG deal?
> You asked for it – you got it! In response to popular demand, one of Marvel's most acclaimed books is returning to the Marvel Universe along, featuring the return of best-selling and award-winning writer Jeremy Whitley along with brand new art by Gurihiru (The Unbelievable Gwenpool)! This October, get ready to welcome Nadia Van Dyne and the Agents of G.I.R.L. back to the Marvel Universe in THE UNSTOPPABLE WASP...
http://www.comicosity.com/the-unstoppable-wasp-returns-with-jeremy-whitley-and-gurihiru/
> Series writer Jeremy Whitley returns for this ongoing series which will feature Nadia Pym, Janet Van Dyne, as well as the Agents of G.I.R.L. team. Whitley will be joined by artist Gurihuri for the series, which is scheduled to debut October 3...
https://www.newsarama.com/40337-unstoppable-wasp-back-from-cancellation-with-new-ongoing.html
> Whitley also promised more Mockingbird, exploration of Nadia's time with the Red Room, and "the revitalization of A.I.M. under a familiar face that Nadia last saw inside of a giant robot." Look for this in stores on October 3rd, and check out some art below...
https://www.bleedingcool.com/2018/06/12/unstoppable-wasp-new-ongoing-series-jeremy-whitley-gurihiru/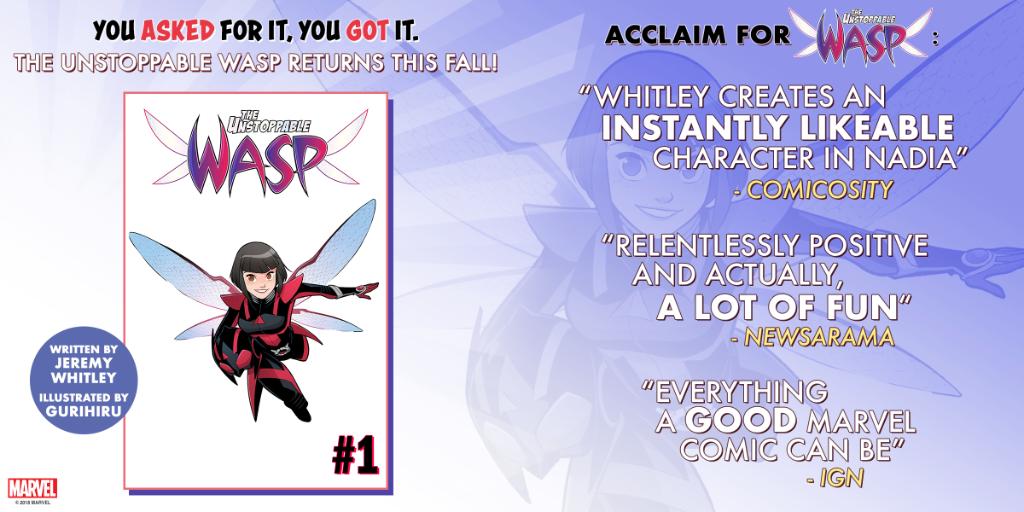 Posted with Mozilla 11.0 on Windows 7
All the content of these boards Copyright © 1996-2022 by Comicboards/TVShowboards. Software Copyright © 2003-2022 Powermad Software