Deadpool 003 (2018)
This was inanity overkill. Ecch. Sickening. Heck, over half the pages had oversized vomit or Pukemen on them.
Deadpool is more despicable than ever with the reveal this was all a easypeasy contrived plot of his own making to renew his in-demand status of Merc for Hire.
Groffon ain't actually a Celestial it would so seem now.
This SOMEHOW must take place before Death of Inhumans with Medusa's heppy and healthy on-call presence.
Luke Cage LAZILY talking/confirming like he doesn't consider himself as an active, off-duty or reservist Avenger. Hmmph.
Colossus steps up to the mound to represent all the X-men who undoubtedly are helping protect NYC between panels just for the pretentiously blatant story 'pitch' gimmick why he gets a chosen for the cameo.
Negasonic shows potential as a supporting hard-ass character - to
cheer
jeer for.
The Avengers deservedly take credit for containing the destruction (and presumably preventing any loss of life?). They showed unflattering tolerance and restraint with DP's sloppy slapstick solution to this grand mess. And by effectively giving Wade a pass for all his HYDRA crimes, readers might as well not expect proper justice for all the other Secret Empire crimes on top of HYDRAvengers danglers. Bah.
Was almost going to compliment the supercrazy easy uber ride to outer space if it was connected to DP's cliffhanger appearance in Mr.& Mrs.X#1. Silly me. It was just the distasteful reveal of the distasteful spacegod deal with King Lokk of Plotdevicia.
Maybe Marvel should have enlarged that Floating Avatar Censor to cover up more than just the groin, eh? Too harsh?
The cover is all-right.
https://comicstore.marvel.com/Deadpool-2018-3/digital-comic/48937?r=1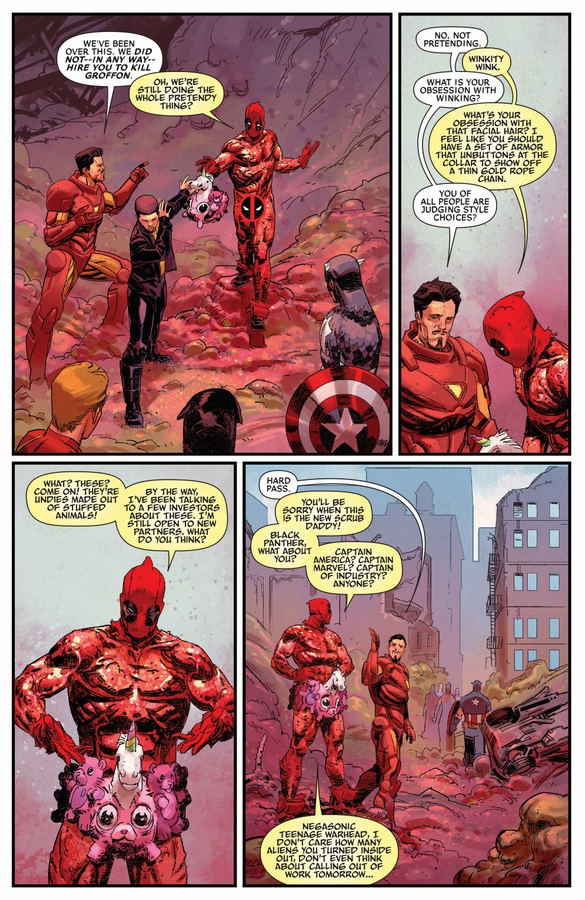 ---
Support Cancer Research and Alzheimer Research.