Looked forward to it and finally got around to reading after a month...
Catwoman 83
http://www.dccomics.com/dcu/comics/?cm=13772
http://mondocomic.blogspot.com/2010/01/esta-semana-en-la-noche-mas-negra-parte_15.html
http://adamhughes.deviantart.com/art/Catwoman-83-Detail-144639873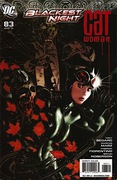 Had hoped for more. It turned out to be just okay but a decent enough issue and thankfully selfcontained. It could have been as easily packaged as the Blackest Night crossover for Gotham Sirens with Harley and Ivy as prominent as they were. And the watercolor-like artstyle and action was okay in some panels.
Decent enough was:
-Black Mask recap in the mandatory BN memory download
-Selina characterization true to her missed series
-Ivy deals with the BM in a appropriately grizzly manor
-Maggie Kyle's origin into a potential supervillainess
What did you think of the issue? How does it compare to the other one-shots seen here:
http://www.comicboards.com/php/show.php?msg=dcb-2010010616120228
?
---
Crossover one-shot related:
http://www.newsarama.com/comics/091012-blackest-night-dead-titles.html
http://www.comiclist.com/index.php/news/dc-comics-updates-cover-credits-for-catwoman-83-power-of-shazam-48
http://www.newsarama.com/comics/091012-10-answers-dan-didio.html
---
---
I miss my brother.
EDIT over a year later:
Awesome Annotations!!!
http://comicrelated.com/news/5031/catwoman-83
http://comicrelated.com/graphics/pages/dc/011310/catwoman83/catwoman83-3.jpg
http://comicrelated.com/graphics/pages/dc/011310/catwoman83/catwoman83-4.jpg
http://comicrelated.com/graphics/pages/dc/011310/catwoman83/catwoman83-5.jpg
http://comicrelated.com/graphics/pages/dc/011310/catwoman83/catwoman83-6.jpg
p12
http://ibraimroberson.deviantart.com/art/Catwoman-83-page-12-150471695
p14
http://ibraimroberson.deviantart.com/art/Catwoman-83-page-14-150427262
p17
http://ibraimroberson.deviantart.com/art/Catwoman-83-page-17-155088027
p19
http://i429.photobucket.com/albums/qq17/thefrostedone/Catwoman83020.jpg
p 4,5,6,18,20,22
chuck-piresart.deviantart.com
http://fc09.deviantart.net/fs71/i/2011/249/0/3/catwoman_83_samples_by_david_grier-d4935p2.jpg