Nightwing #57
> Destiny...fate...predetermined inevitability... these are all things that Ric Grayson has struggled to reconcile now that he has been given a second chance at life. A life recently unburdened with years of trauma, defeat and struggle when the hero known as Nightwing was shot in the head. Now, Ric must come to terms with who he is, and what kind of hero he wants to be...if he wants to be one at all. And while Ric is content to walk away from the mantle, one woman has been hiding in the shadows, waiting to solidify an identity of her own...an identity tied for all eternity to the clown price of crime...enter The Joker's Daughter!
Others' blurbs:
Quote:




Lyles Movie Files - Jeffrey Lyles

Feb 20, 2019

I was starting to reach the point where I was anxiously awaiting Ric's return to Dick Grayson. After this issue? There's more life left in this storyline and there's still a number of fun possibilities to explore. And I'm all the way ready for it. Read Full Review

8.0

GWW - Nick Friar

Feb 20, 2019

Lastly, looks like the Joker's Daughter is back in the fold. She has to be one of the more disturbing characters in DC's roster. How in any way could it make sense to anyone to wear a dead person's face as a mask? Who cares if it's your "dad?" You have to be a different kind of crazy to think that's OK in any capacity. Read Full Review

6.0

Batman-News - Joshua McDonald

Feb 20, 2019

Don't be confused. I still hate this entire Ric Grayson approach, however, Nightwing #57 offers some really nice character moments that I can't really knock. Ric takes a back seat as Beatrice and the Nightwings take the spotlight, and there genuinely is some good work here. Read Full Review

6.0

Weird Science - Eric Shea

Feb 20, 2019

While I'm happy to see some of the side characters of this series get some background, while continuing to show the Nightwing team in action, the story that we're moving into felt a bit boring to me and a bit overdone. Yeah, it is something that would befell a city such as Bludhaven, but it came off as a bit of a dud, while much of this issue was used to catch up new readers to what's going on in the world of Nightwing. I love the art and the prospect of the villain at hand, but overall I felt that this issue was lacking. Read Full Review


PREVIEW:
https://www.readdc.com/Nightwing-2016-57/digital-comic/T1615300575001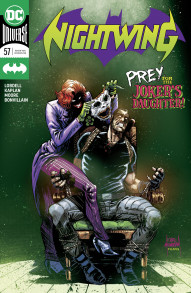 9.0
HOW DO YOU RATE THIS ISSUE??