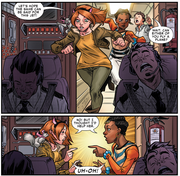 A frequent Quinjet flyer and a Wakandan prodigy can't fly a normal plane? Uh-oh...
W.E.B. Of Spider-Man #3 (of 5)
> The Worldwide Engineering Brigade lives up to its name, this time taking a trip around the world to find a dastardly hacker, intent on stealing all their best tech!
Onome is getting more comic book facetime than Okoye, lately? Good or bad? How 'bout this chapter? Good or bad?
https://www.comixology.com/W-E-B-Of-Spider-Man-3-of-5/digital-comic/944608
https://aiptcomics.com/2021/07/30/marvel-preview-w-e-b-of-spider-man-3/