W.E.B. Of Spider-Man 005 (of 5)
> The WORLDWIDE ENGINEERING BRIGADE are in for a surprise! Who's big, green and usually angry? Spidey and the team are about to find out!
As a kid-friendly
SPIDEY SUPER STORY
it would have been an acceptable adventure but-
⦿-what to you think of the conclusion seeing it as part of MU 616 canon?
⦿ Was the cover a bit scammy, what with it featuring JUST Spidey?
⦿ Another example of A.I. or soul-in-circuit sentience able to threaten the world by infiltrating the internet easy peasy. SIDEBAR: What was the first example of this millenial-age trope - it must've been before Ultron, right?
⦿ So what? After the silly richocet defeat of Cy-Gob he reverts to an all-human form via some reset science backlash? That ONE panel explaining how
Louvre painting restoration machinery
glitched was confusing, eh?
⦿ Uh, isn't Squirrel Girl's shoulderless costume impractical in combat design for her?
⦿ Does the Curse of Movie Synergy (and Paris) totally snub Ant-Man and the Wasp with their Avengers tribute?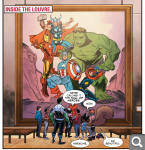 And if so, why Nat but no Clint?
⦿ Now, that it's all over which writer will remember W.E.B. exists and not be forgotten like G.I.R.L.(Pym Labs) has been? Ditto the recyclability factor with hi-tech Spider-Bots to be as smart to keep using as frequently as Superior Spider-Ock's spiderbots were after their run. *koff* Where do YOU think Onome should go next?
https://www.comixology.com/W-E-B-Of-Spider-Man-2021-5-of-5/digital-comic/951099
---
Support Cancer Research and Alzheimer Research.