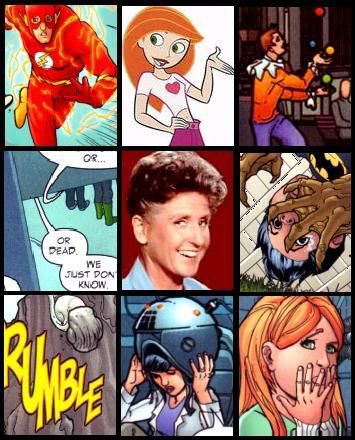 Flash 234
http://www.dccomics.com/comics/?cm=8339
Things that might make things different:
-have Wally run 90° to the buildings. If Cpt Cold can make him slip on ice at superspeed, gravity should make him slip off building running at that angle
-have the background firefighters include their Captain's name as introduction to a supporting character
-have Iris mimic KP's look (hair&clothes) for a fun visual homage
-have an old school, 70's type, title page with a reimagined splash page of things that will happen in the issue
-have Linda agree to give the kids cell phones. That seems much more reliable way to put your mind at ease than relying on a new quirk in Wally's powers
-have a narration box locating the (own? home?) lab for readers benefit next time
-have the scientists
from 232
help Linda in her(??!) lab next time to increase supporting characters
-have Iris work to remove the kids power rather than attune them, for their benefit (not a fan of their casual powers). And use less deus-ex-machina tech 'cuz her mother's instinct should have sufficed to 'detect emotional distress'
-have these aliens invasion plotline end ASAP
-have Black Canary (she is team leader) transmit the next JLA message for variety sake
-have the West family visit Savoth. There were elements of the backup that were preferred to the main. And the Barry story set up the place with interesting possibilities.
---
Hire Shang Chi:
and enter the current caption contest...