Flash 235
http://www.dccomics.com/comics/?cm=8606
s
p
o
i
l
e
r
s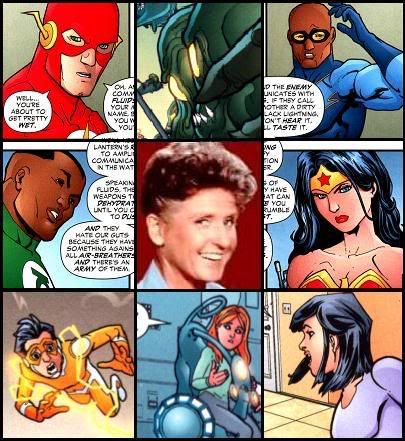 Surprisingly the art style that didnt work on the insided for me looks really nice as a cover image! 'Course if that's supposed to be Linda on the cover then dont like it for THAT reason.
Nice to see the JLA show up and reasons given for the rest of the team not there. But still, if this is 'Defcon 1' shouldn't more people have been contacted? It cant be time factor thing as an excuse as Wally had time for an unrelated adventure last issue and Superman was the one available to give the portal device news.
At least there were 3 different characters for this episode. 3 characters that DID something interesting.
Can understand how comic book heroes 'get around' breathing in other atmospheres but since the portal devices were a good element to include then why not at least be prepared for a breathing device as backup? Who know what could happen - in fact it would have come in handy if GL was not able to make that airbubble.
HATE the waste of the title page presented! Hate it. And it was misplaced to cut into the war with images of characters not really intrinsic to this issue.
Enjoyed the detailed speed punches and spinning underwater. And the exploring nuances of the water world environment but wouldnt electricity from Black Lightning fry everyone in the water, heroes too? Bad not to address.
JLA. Warrior rage mode?
"Dehydrated." Was he talking about his condition or the unclear smoking remaind along the edge or the window? At least his determination made sense the next panel. Readers should think he'll make every one pay after the justice he gave Inertia.
Not crazy about this vibrational magnet power - would much prefer the return to vibrating thru walls.
Wally blows up. In a good way. Still, two pages of a heart to heart with his son was good to show it was a drawn out and their relationship strong BUT was not a good thing considering Wally was in a hurry with the aliens attack and all.
So its Flash and Jai teamed up for a conclusion against an army. I feel safe. *gah*
The backup was okay formula but not as captivating as chapter 1. Was going to make a banner of Skidds but wasnt sure if he was more horse or camel for the pun planned...
---
Hire Misty Knight:

and enter the current caption contest...