THE FLASH #240
http://www.dccomics.com/comics/?cm=9334
s
p
o
i
l
e
r
s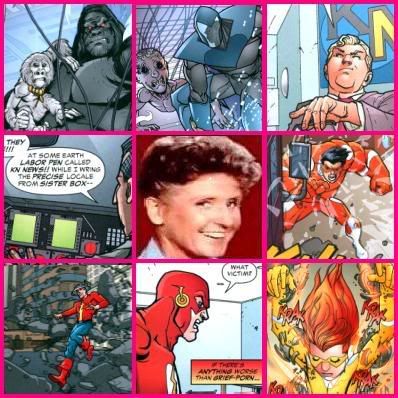 *sigh* Did not care for the issue.
Why can't we have the old style DC title pages with more pic than words (dont like this Marvel wannabe feature done this way)?
How is Grodd back from falling off that cliff... off this world?
Who is Nzame and why kill a sacred monkey child?
Spin powers still confuse anyone?
Edwar is quite the a tough cookie?
What, no Linda?
Sister Box? Fifth World tech? Dark Side Club? No break from Countdown disappointment?
Not excited about waiting for these answers. On the PLUS side:
Raymond is developing into a viable supporting character pain in the tushka.
Grodd panels look good.
FINALLY it looks like they're doing something for the better [status changing] for with the
Brady
West kids:
---
Decide round 3 of the BATO poll:
Enter the newest caption contest: