Fair issue. Great cliffhanger!
FLASH 242
http://www.dccomics.com/comics/?cm=9728
s
p
o
i
l
e
r
s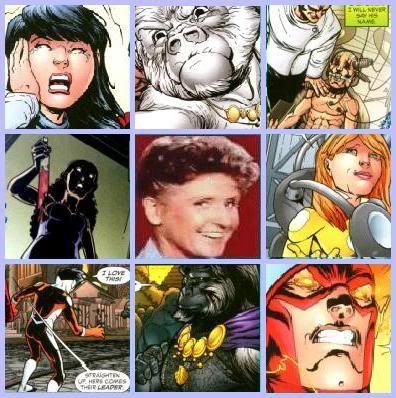 The cover blurb was real good but there was NO GOOD reason a young Iris on the cover - that ruined it.
Iris meeting Linda was a good scene. Older Iris is kind of interesting here but then there's still Jai (at least he didnt Hulk out)...
Title page. Waste of space.
Not sure the chaos of the speed lines displayed works this issue.
Edwar and Nzame were kind of interesting this time 'round too.
The origin was much more coherent in its entirety. (Too little too late is Spin or the Doctor are never seen again.) The fact that he'll never say the Doctor's name makes me want to know it! Wow, 1000+ kills?! He desereved his fate. Good to see Wally help Edwar do the right thing in the end.
Oh no! Another DC icon hero with a monkey sidekick from Gorilla City? ! At least this one has a nicer smile than Tolifhar or Detective Chimp.
That all-of-a-sudden appearance in Gorilla City was way too jarring. Why not try asking for Nzame's help before taking him home? Or at least mentioning the Brave & Bold issue where other avenues with noted peers was already attempted?
nb: First time meeting NNAMDI. WHen did he first appear?
That reveal that Nnamdi winked would have been better to see in art than in text.
WTH??!!
The that was a shocking/exciting ending twist for any comic book! Some surprise with Flash's extreme reaction too.
Do you mind a few more spoilers??:
---