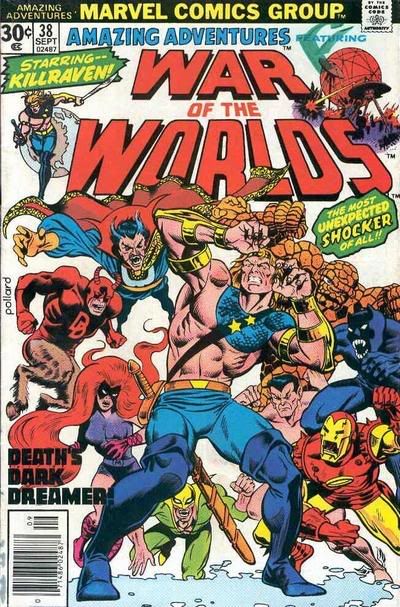 Boy, do you ever want to loiter in the foyer after this one. Jerry Seinfeld says that he's the one who has to ask people about the plot after the movie.
"I always get confused in the movie theater by the plot. It's embarrassing. It's an embarrassment to have to admit, but I'm the one that you see in the parking lot after the movie talking with his friends, going: ``Oh, you mean that was the same guy from the ... Ohhhhhhhhhh...""
I should send him this comic.
WAR OF THE WORLDS also known as KILLRAVEN ran in AMAZING ADVENTURES from #18. This issue was actually one of the fill-ins that Marv Wolfman commissioned in case of the, as they would call it with a chuckle, Dreaded Deadline Doom. Various Marvels had gone to print containing patched together new material with reprints (if you were lucky) or just plain get-out reprints, fullstop. GHOST RIDER #10 had the Hulk fighting Ghost Rider on the cover because it was too late to change to accommodate/admit that the interior was actually a complete rerun of MARVEL SPOTLIGHT #5. Hence, Wolfman's strategy, sometimes, it seems, credited to Jim Shooter. Hence comics like this. A Bill Mantlo mangle of gobbledygook, illustrated with gusto abounds by Keith Giffen, ever experimental, and still full of the broth of Kirby at this time.
And it was the second to last. Even bimonthly, WAR OF THE WORLDS was a labour of love that took longer to assemble than your disciplined monthly. Another much better (in conventional terms) Mantlo fill-in story was in AMAZING ADVENTURES #33 (drawn by Herb Trimpe, the first artist to have a string of issues.)
"The Dream Dome"
is quite ably inked by Al Milgrom. He had the time and inclination to do one of his bang-up jobs. (I know to some people his name just means "Vince Colletta." )
We see Killraven riding his rather interesting looking steed, some burgundy-coloured dragon horse without the flame but with the razor-main of the outrageous and a snaking tail. You'd think it was designed by P. Craig Russell, and its certainly cut out for him, but Gene Colan first drew the specific beast in AMAZING ADVENTURES #26.
Reigning in the animal, we turn to the splashpage of page 2. Killraven mouths expositional dialogue about scouting ahead of his other Freemen. In the Miami surf, there's this great yellow dome. Killraven decides to investigate it.
"Everything about it marks it as different from the other ruins..."
Killraven states as he climbs up the side of the building. But it doesn't actually. Giffen's Dome looks incomplete and far from untouched, just like most of Earth we get to see in this title. He enters the causeway speaking to himself and the reader and is suddenly assaulted with explosive lasers. He's narrowly kept his skin. Distracted from his soliloquy, he turns
"and screams at the sight which greets his fear-shattered eyes."
In a cavernous dimensional maw filling the width of the causeway, all of Jack Kirby's outer-space seems gathered together to assault Killraven and his mind and possibly his dialogue:
"Nightmare! By my sword... WHAT IS IT?"
He runs into it as opposed to trying to escape back to his tethered beast. Observed fluctuating silences and drone-noises help him find his way to sliding doors. Some enigmatic figure in a helmet is elated to see him. Killraven has no hint of his existence just yet. He's closeted away somewhere else in the Dream Dome.
Killraven converses with a voice coming over the stereophonics. He takes an escalator, and is delivered upstairs. Killraven wanders through technology. He's invited to see the "Man in Space" exhibit. The humming stops again. This is the cue for a panel where his head is ripped apart in two directions. On the right is his naked skull. And in the very bottom panel, the enigma, regretting the strength of his assault. Did you only want to tickle him, oh Panel-Skulker? You've just punched your way through a man's head.
Sort of bodily melting like a science fiction acid trip with a budget, Killraven sees all his friends and foes alike. Then he is plonked down on an invisible platform floor - which transparently shows the 1970s beneath his feet. It's the pavilion and the office buildings. Walking across the floor-sky towards Killraven comes an Iron Man that looks a tad like the Arno Stark model that wouldn't be created for another decade. The whole time, this Iron Man refers to Killraven as
"Son."
This mainly reminds me that when Mantlo wrote IRON MAN, he had Jack of Hearts come aboard as something of a Robin or protege - a really good relationship while it lasted.
Iron Man with the spikes and the robot-mouth declares that he is a myth. Puzzlingly, Killraven declares that his time has no myths. Which is complete bull. For goodness sake, it's riddled with them! Anyway, Iron Man doesn't like hearing about Killraven's Martians and such and so he flies at him and punches him out of the panel.
Did I mention the art's great? It is. Like Craig Russell, Giffen utilised a multiplicity of panels and the figures lurching through them and escaping and attacking are all beautifully "threaded." Giffen co-plotted this, so its no surprise the art is so strong. He had some definite article in mind. (I guess.)
Iron Man has intercepted Killraven's thrown explosive star, the ones he keeps on his chest like a bandit with a belt full of bullets. He's just caught it in his Iron hand. He squashes it and Killraven is batted backward and then sinks into some wetlands kind of swamp. Helmet-head mumbles about crap.
In the next two pages, Killraven battles Man-Thing. Now you know as much as I do.
Talk about an ability to storyboard. I think that may be Keith Giffen's true Number One Talent. This sequence is about endangered species - and then the holographic Man-Thing sets fire to Killraven. He disappears into a hole in space or whatever and then - pay-off!
American sports journalist Howard Cosell as a rocky purple Darkseid wanna-be, head the size of double-decker bus - with Doctor Strange in his gaping mouth!
I'm really picking up the phone on this now - not.
The cover looks like Killraven vs the NOT BRAND ECCH Universe. (Beautiful work by under-rated Keith Pollard inking himself.) Here, it looks like the Tom DeFalco Universe with Darkdevil and other such altered-looking regulars. They mill around in front of Cosell-@-Large and he cracks on about the Hall of the People Pavilion. You know Killraven's going to be attacked any second and then Bob's your uncle.
But what the hell is this all about? What does this symbolise? It makes ZARDOZ look explicable.
Helmet-head says the dream is going wrong again. "Medusa" agrees with "Doctor Strange" that they must make a sacrifice to
"The Howard."
She's willing to
"Sacrifice to the Great Cosell"
Killraven fights his way through. I have a distinct weakness for assemblies of villains or collectives of heroes fighting the main character. See HULK #200, MASTER OF KUNG FU #59 and 60 (Doctor Doom robots) and via Mysterio and Dr Faustus in Ross Andu-era AMAZING SPIDERMAN. This is great fun. Then Giant-Man manages to grab Killraven.
Then... Iron Man flies in and saves him from being crushed. And dropped. He takes him to a gathering at Avengers Mansion. Gerald Ford is dressed as Captain America. He wants Killraven to join them. Killraven punches instead of heeds and suddenly its all over bar the stupefaction. Killraven finds himself in the same room as the helmeted fossil of a man in a spacesuit who has been trying to assert, I don't know, control, or least influence. They have a conversation that makes the whole thing about as clear as hieroglyphics. While its true that Helmet-head's dilemma is divulged (this Dome is the unshielded 1999 Mars rocket launch that resulted in his sleep and dream-inducing powers) there seems no rhyme nor reason to the whole cryptic affair.
Killraven kills him and departs.
A feast - of sorts, this comic.
Cornelius
Reading: I've found myself progressing through KILLRAVEN ESSENTIALS, so have out all my P. Craig Russell originals (from AMAZING ADVENTURES) and the graphic novel - and I'll also tackle the Alan Davis mini-series. Also: Random stories from the Dark Horse collections of HOT STUFF and BABY HUEY. Other odds and sods: DETECTIVE COMICS #429 (Frank Robbins and the Man-Bat couple) and ADVENTURE COMICS #384 (with ten pages worth of a Schaffenberger Supergirl rip-snorter.
Listening: MGMT
Watching: Well, I did catch some of Alan Ball's TRUE BLOOD on commercial-ridden television. It's good, but I'll wait for the dvd.
Flicks: BLOOD SIMPLE (my favourite Coen Brothers film - in fact, I've watched it twice since picking it up), BURN AFTER READING (a Coen comedy, also very good) and Jean Cocteau's ORPHEUS for the umpteenth time. Sublime. Also caught a fun Roy Rogers oldie on the Late Show.
Opening: For RADIO ON PAPER #2, a comic with a three pager of mine called "What Are You Afraid Of?"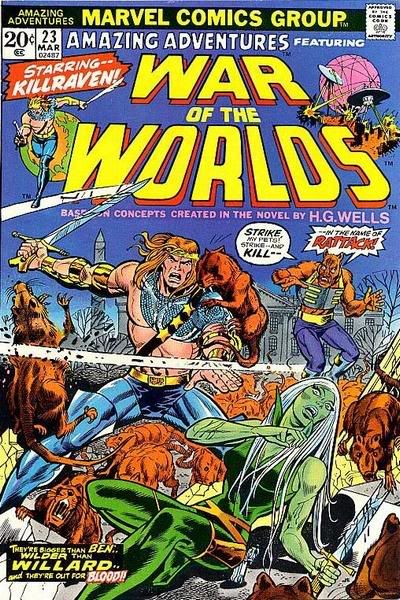 Herb Trimpe and P. Craig Russell are the two artists to really put a stamp on KILLRAVEN, though I could be wrong. Alan Davis's mini-series was enormously inspired and informed by the first two issues by Neal Adams and Howie Chaykin.