Marvels X 005 (of 6)
> Finding a cure for whatever it is that turned all of humanity into monsters proves almost impossible for even Reed Richards, Bruce Banner, Tony Stark and the greatest minds in the Marvel Universe. The fact that no one wants to be cured leads to a revolt against the heroes themselves. Alex Ross, Jim Krueger and Well-Bee continue their invincible prequel to the EARTH X trilogy. And even include in the tale. $4.99
Stopped reading after #1. Gave it another try.
Nice nostalgia and art for a quick Byrneread. Nice surprise to see that Kyle Richmond's Nighthawk was rebooted in this tale. Mildly curious, now, what is the true nature of this superpower plague and what is planned for David (who deserves a last name). Mildly.
Has anyone here read all 5 issues so far? How is it meshing with the original Earth X series? Is Ikaris is there for some early MCU movie hype?
LINKS:
https://www.comixology.com/Marvels-X-2020-5-of-6/digital-comic/844752
https://graphicpolicy.com/2020/09/27/preview-marvels-x-5-of-6/
https://marvel.fandom.com/wiki/Marvels_X_Vol_1_6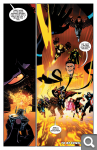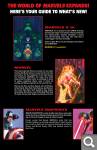 ---
Support Cancer Research and Alzheimer Research and COVID Research.