s
p
o
i
l
e
r
s
p
a
c
e
So, Spidey 'clumsily kills' Jackpot...'note the quotations'...did not like that.
Amazing Spider-Man Annual #1 Preview
http://comics.ign.com/articles/923/923595p1.html

Interview at newsarama...
http://www.newsarama.com/comics/080826-AmazingSpider-ManAnnual.html
Bonus: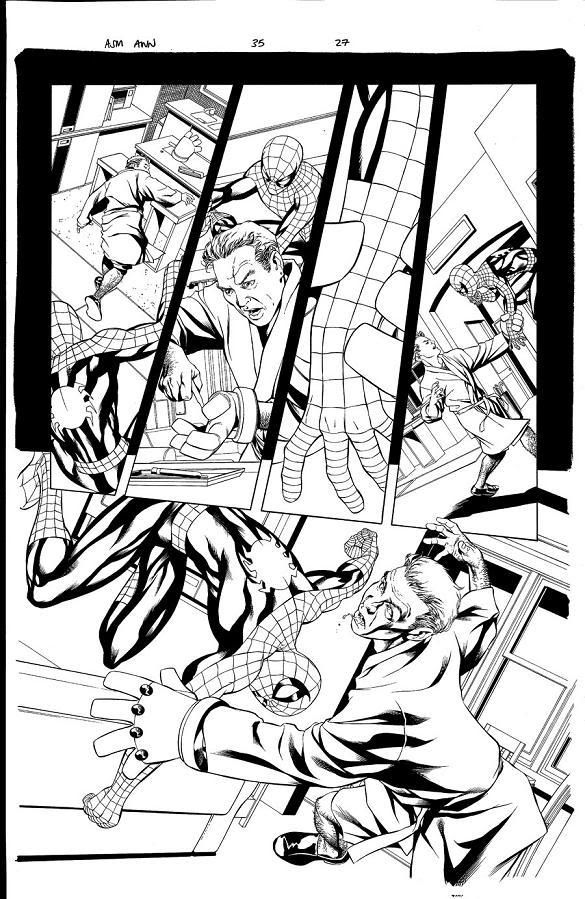 This thread and missing(ie.not collecting) the old title and made the exception to read this one...
http://www.comicboards.com/app/show.php?msg=smb-2008110119462161
but found this review also at newsarama echoes some disappointment...
http://www.newsarama.com/comics/081102-best-shots-spider-man-annual.html
> Spoilers ahead for this months Amazing Spiderman Annual:-
>
> I kind of enjoyed it. Until she died. And then it was like WTF?
>
> Credit where credit's due, I really didn't see it coming.
True.
> But I was kinda liking Jackpot. (Even if I was about the only person in the world who did actually like her, gaudy costume and all..)
Ditto.
> It was nice to have a girl that Spidey could talk to 'on the job' so to speak. In fact it felt a little bit like the early days of the Spidey-Felicia dynamic.
Good banter in this issue.
>
> Although I guess part of that liking might have been due to the fact that I've always felt that Spidey's strongest relationships should be with people who can interact with him in that arena.
His banter is legend.
> One of the reasons I was never very fond of the marriage was that it always felt like MJ was getting half a husband. In that she could never believably really be a part of Peter's life as Spiderman. And I really think that given the tendacy of villains to uncover his secret identity it was almost irresponsible for him to get in a long term relationship with someone who couldn't believably protect herself against the variety of super powered villains that Spidey has in his rogue's gallery...
Disagree. MJ has always been a wonderfully and refreshing new take on a significant other. Her dealing with her marital sitch has always offered springboards of story oppurtunities.
>
> And before it's raised, I know it works with Superman Lois Lane, but Kal-L's power is on a completely different level than Peters. If he's on the other side of town, he can still hear her in trouble and be there in a blink of an eye..Spidey..not so much..
> (In fact I've always thought Lois lane was lucky to have Superman so committed to looking out for her, or she might have met a fate similar to the female reporter murdered by Norman Osbourne in the Pulse series..)
>
> But getting back to jackpot. I think there was potential there. And I'm not even sure I would have minded that much if she had turned out to be MJ, but of course now..
Or at least a more substantial connection to Spidey given the prolonged clues and whole BND factors still to be addressed.
>
> Now I know there is the potential for this Sara Ethert character to take up the mantle. But that's not really the same thing. Imagine if you will a scenario where Ben Reilly's death had been the fault of another clone. And that clone, in 'tribute' to him, suddenly decides to start calling himself Ben Reilly and puts on his costume. Would anyone who liked the character of Ben Reilly, suddenly start warming to that new version of the character? A lot of the people who liked Ben, started to like him when they thought he was the real Peter Parker.
> So I can't really see much logic in having another Jackpot character now. Best to keep this one dead & buried, now that they've pulled the trigger on her. (Metaphorically speaking..)
>
> Way she went out though was interesting. I suppose there's a good anti drug message there.
Not sure why her back was so messed though.
> Although I was relieved when it turned out to be the villains touch interacting with the drugs that killed her and not Peter's antidote. Pete has enough guilt already without contibuting to someone else's death. Although they got a good dramatic moment out of that, when it seemed that it was Peter's fault. That scene was a killer all right. (Pun only partially intended..)
Guess his Spidey-sense doesnt work when he, himself, is the one causing harm. Not sure how sincere Jackpot's guilt has been portrayed for her footnoted 'kill' she blames herself. Doubt that Spidey will have soo many angst scenes about Alana Jobson's death given Reed absolved him a hard-to-believe 100%. It WAS a good scene but on the other hand in some regards. On the other hand it seemed to forced and convenient; plus Reed biology expertise made Peter look too dumb during the analysis.
>
> Have to say though, do you think this would still have happened, if the first issue of the Jackpot SI series had sold out or been a runaway success?
> Almost feels like they always had a trap door in mind for this character..i.e Poular-Turns out to be MJ. Unpopular-Dead!
>
> (Kind of like how the ex Spiderman writer JMS had lot's of plot trap doors for characters on Babylon 5, if the actors didn't work out..)
>
> Anyway, RIP Jackpot! We hardly knew ye..
>
Had high hopes for Jackpot but did not like how fandom was misdirected for so long with this abrupt 'ending'. So, Sara NEVER actually wore the costume on panel in a comic yet? And the SI: Amazing Spiderman mini means EVEN LESS now - well except for the static $9orsuch cover price total. Still, since never was buying the title didnt really suffer. This ending does offer new beginning and new hope for the real Jackpot storyline to begin. Just saw this freaky theory at CBR:
Sara Ehret could now become a suspect for Menace's secret identity, given the earlier speculation that Menace and Jackpot were divided aspects of Mary Jane's personality.
Despite the debatable degree of blame to Spidey, the other disappointments:
The continued/illogical Spidey/SHRA status quo was a important part of the story. Reed looking the other way. Eric O'Grady not the only one who can so easily fool SHIELD thru Registration. Sudden casual priority with post-CW mentality at this point. Speaking of CW, completely changing the significance of the ending over in Wolverine with the return of Mogul. Not to mention the wasteful 2 page spread of useless folder information (from a readers POV). Didnt care that Spidey did a B&E on a 'good guy' either.
However there was stuff liked:
Story spotlight on (the real)
Jackpot
.
The return of
Commanda
.
Cleverly entertaining intro of Blindside.
Okay, so iffff this isnt a new reality the MU tradition of involving a shared villain with "Mogul"
Walter Declun
from
Wolverine 47
.
Notable MU guest star, Mr Fantastic, despite his poorly colored sideburns.
Betty Brant significant face time.
Funny lines, footnotes, and fight in the apartment.
Someone actually successfully figuring out a secret identity on rare occasion.
The enjoyable art and most of the layouts!