SHADOWLAND: SPIDER-MAN #1
http://marvel.com/news/comicstories.14152.preview~colon~_shadowland~colon~_spider-man_%231
http://www.newsarama.com/comics/Shadowland-Spider-Man-100517.html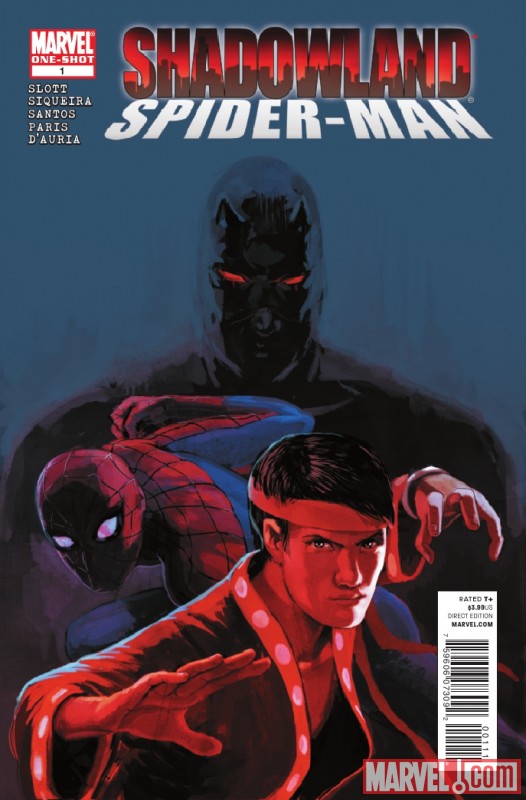 This was a nice spotlight vehicle for Shang Chi. And Spidey was sorta static but still done spot on - which is still good 'cuz hey, it's Spidey! Know a bit about Mr. Negative despite my AMZ boycott due to BND but not enough to judge/appreciate how good OR bad this showing played out. Learned some about him which is a positive. The art was... okay, if do dark in colors.
Readers would have to know a lot of Shang to appreciate this personal trial of his to its fullest as details/footnotes are (unfortunately) not offered. To balance this was a lot of key character development from this point on. And some decent crossover sequencing with him in the Shadowland Event. Guess someone else will have to pick up his Tarantula dangler. As for any MoKF danglers it was a cute (probably) injoke that everyone obviously avoided actually saying the trademarked Fu Manchu name of his father.
Shang teaming with Spidey in ninja battle felt a bit stale. Shang discovering such an overwhelming darkside was... something to get use to. And Shang saving the 'flying rat' was a very zen/sweet bit.
Spidey solving the problem may have been cliche with him submitting to the martiat artist's ultimate decision to strike him down or not but worked quite well. Curious if this momentous moment was before or after Shang's very weak/odd decision to give up claim to the MoKF name to Daredevil. Will have to go back and check sequencing of that flashback scene above.
Overall, it was a solid selfcontained Spidey teamup adventure. Expanded comments here, FYI:
http://members3.boardhost.com/H4H/msg/1287337951.html
---
Dont forget to comment on Luke, Danny, AND Shang Chi's showing, in Shadowland #4 over at the H4HMB...

I miss Dan.