Sorry that post is belated [and bit selconscious for third in a row] but this was a very fun book worth giving a nod...
Amazing Spider-Man Annual #37
http://marvel.com/news/comicstories.12577.preview~colon~_amazing_spider-man_annual_%2337
http://www.comicbookresources.com/?page=preview&id=5253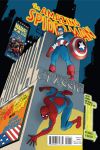 Interview:
http://www.brokenfrontier.com/lowdown/p/detail/kurt-busiek-makes-his-marvel-again
Pencils:
http://patrickolliffe.blogspot.com/
http://4.bp.blogspot.com/_UTAdsu_QOmc/TCIVRp-RkSI/AAAAAAAAADs/cK0ca5Uy9ZA/s1600/spidey+annual+untold+7.jpg
http://1.bp.blogspot.com/_UTAdsu_QOmc/TCIVROQwiyI/AAAAAAAAADk/jEe53-ecjH4/s1600/spidey+annual+untold+6.jpg
http://4.bp.blogspot.com/_UTAdsu_QOmc/TCIVQyfsewI/AAAAAAAAADc/-awhn-kl3Ck/s1600/spidey+annual+untold+5.jpg
Pretty much agree with this review for both stories:
http://www.comicrelated.com/news/6811/asm-annual-37
The amazing artwork acknowledged there -in both stories- bears repeating.
However Was not crazy about ALL modernization 'changes' thrown in for mere retcon sake. Some of the changes are logical, even good - in both stories - but others were bothersome to degrees. Particularly, the one with seemingly easy availability of INHIBITOR COLLARS [attached] back then read too convenient - possibly even requiring a No Prize explanation to 'accepted' as is.
Cap was inspirationally portrayed as was Spidey's 'first' team up banter with him. Kinda cheesy semantics though that the cover promises their first meeting and the first thing the teamup story does is footnote that previous meeting in the classic Avengers tale. Curious now, if anyone can recall whichbackissue told the 'original' first teamup with just these two heroes?
---
Sidebar: How often had they met before this ish?

I miss my brother.