Spider-Punk 001 [of 5]
Is anyone going to give this alt-Spider-man a chance? This punk take wasn't really for me. And easily beating alt-Kraven TWICE in the same premiere, WITH an extra team-up super partner the second time was not that impressive. Alt-"Capwannabe" and alt-"Ironheart" were not desirable. Not enough Ta$kma$ter or President Osborn to judge them. Didn't see real enticement to get the other 4 issues of Earth-138 Hobie's What-Iffy adventure.
https://www.g-mart.com/static/gFEB220915.html
https://www.flickeringmyth.com/2022/04/comic-book-preview-spider-punk-1/
https://majorspoilers.com/2022/04/07/spider-punk-1-review/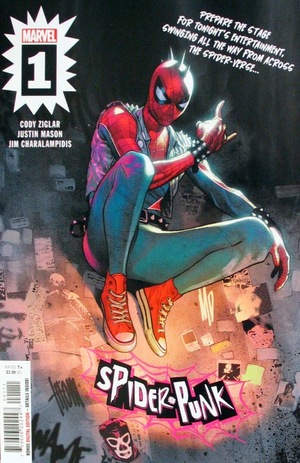 ---
---
Or there's always Kraven in the Newspaper-verse to revisit instead...
Support Cancer Research and Alzheimer Research and COVID Research.