SUPERMAN FAMILY was a title that pulled together SUPERGIRL, LOIS LANE and JIMMY OLSEN, keeping the numbering of JIMMY OLSEN and beginning at #164. (LOIS LANE stopped at #137 and the more or less fresh series of SUPERGIRL with #10.) SUPERMAN FAMILY was larger and rotated the three. The first story was always the non-reprint.
But this is really a review of Australian reprint SUPERGIRL COMIC #25, the lead-story being
"The Secret of the Spellbound Supergirl"
from SUPERMAN FAMILY #180. As seen in black and white, just like their latterday counterparts (if you're me) the ESSENTIAL and SHOWCASE reprints.
The rest of SUPERMAN FAMILY has stories like
"People of the Cat"
(Jimmy is rewarded with a magical cat's paw that gives him nine lives.) The rest of SUPERGIRL SUPERCOMIC has the simply wild
"Invasion of the Chessmen"
by Joe Simon and Jerry Grandenetti from PREZ #2 , a Binder/Mooney Supergirl fancy and a strip billed as Supergirl and Jimmy Olsen where-in the two marry.
"Secret of the Spellbound Supergirl"
is written by Cary Bates and handsomely illo'ed by someone I would describe as being one of the definitive cartoon-illustrators living or dead - (but! their work goes on living), Kurt Schaffenberger. He needs no introduction, but that would be mine.
Contradiction: the titlepage shows Supergirl's separate spectacles. The panels are split in two and the triangular panel above shows her swooping in saving one Senator Buxley from a well aimed mini-missile assassination attempt. The rest of the page shows the reciprocal side of the triangle with a bit more inclusive, reaching down to the bottom of the page, the title on the other side of it in the lefthand corner. What we see in this other panel is a flying Supergirl knocking her own block off, punching her head off a Statue of Liberty-sized statue of herself. The reactions from those watching contrast. From
"Way to go, Supergirl!"
to the more expostional
"There's Supergirl on one of her wild rampages again... destroying that memorial statue of herself!"
So we're in the picture one hundred percent.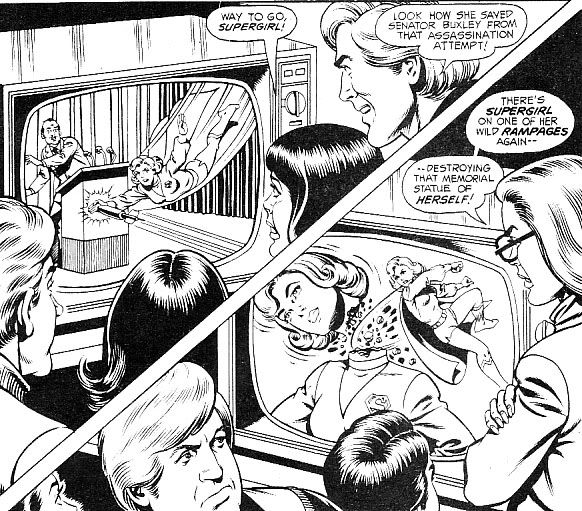 In the Everglades, Supergirl saves a young boy playing contentedly near a marsh from an encroaching crocodile. He gets an
"air-sandwich"
as he snaps his jaws. Then she hurls it a distance and the boy's mother finds him.
Cutting to New Athens Campus, we find that Linda Danvers is keeping her superior waiting. She comes in her bathroom, her super-hearing having heard Mr Taylor's grizzled remarks about her. When as Linda Danvers she sees Marty (her male secretary who was trying to placate Taylor), suddenly the length of her absence wasn't the mere two minutes reckoned on but in fact twenty-one minutes!! She's flummoxed...
Todd Baxter comes into Linda's office, but Marty has to tell him that she's gone home and canceled her appointments.
Meantime, the flying Krptonian councilor is in reflection. She is heading towards the Fortress of Solitude. In the third panel of page four here, we get one of those boxes with newspaper headlines telling us what we need to know.
"Evidently I performed a good deed the first time I blanked out... but the second time I did something uncharacteristically bad!"
Supergirl had stolen back the huge diamond she gave to charity - as well as repaired a dam.
"Odd I should have acted that way. There's nothing lower than taking money from charity!"
Supergirl's been here before. Of course she has, but working on the case at hand, she was here in her cousin's Citadel of the DC Fantastic only yesterday. She appears to pull a levitating camera out of the air. The Fortress has provided her with a Superman-Science gizmo, a flying and can-make-invisible camera eye. She slots the "visi-tape" in the computer and reviews the last twelve hours. There she is flying into her bathroom window again - and then flying backwards back out again. She flies backwards at super-speed all the way to a cave!
There he stands, a young blond man holding an urn. He seems to have complete command over Supergirl. It's then she gets her instruction to destroy her monument... Retracing her precise flightpath, Supergirl finds the correct spot. And yet, where is the cave, the urn and the mystery youth? Magic must be concealing it.
The man appears to be eavesdropping on a conversation taking place at the site of the statue's destruction. All that's left is a pair of boots. Linda Danvers is saying that she is reserving her opinion of Supegirl's actions. The "familiar face", as Cary Bates puts it, seems to have changed expression, indeed, entire character, between panels three and five.
The following day, watching a pint-sized TV on his desk, Martin Hamilton takes a call asking for Linda Danvers. She is still not in. The television broadcasts a breaking news scenario of an oil rig going up in a near-inferno. In flies Supergirl who has heard about the dilemma on radio. And out-flies her again. She is completely trapped into flying in reverese. At least she has her wits about her at the moment. A couple watching their own dinky TV on the beach have it whisked away. (You watch TV on a beach?) When Supergirl turns up at the cave, she has it hung around her neck. The urn-holder is there and gets the message. He had a mission he sent for her to perform, but this oil rig disasteramundo taking place under Supergirl's chin must come first! So it's not the Hyde but Jeckll Linda has flown to. Just as well for those she goes and saves on the rig!
Watching in her office, Marty goes
"Wow!"
Back at the Fortress of Solitude, she watches the latest
This Is Your Life
raw footage. Marty sends in Todd Baxter who had missed Linda narrowly two days earlier. And its him!
"Miss Danvers, I have a problem!"
"Great Galaxies! I wasn't prepared for... this!"
Linda keeps herself as cool, calm and collected as she can, but she is visibly ruffled. Todd tells the story of how, separated from his archeology class on a field trip, he discovered a large cave in the Everglades. Floating fixed between stalagmite and stalactite, we spy the urn that is causing all the trouble. It won't budge when he tries to pull it out of its park, but he is quicker than a Rosetta Stone to decipher the pictorial content around the upper rim. The Punza Tribe was attacked by extraterrestrial invaders - hence this object which gives the holder complete control over anything from off planet.
"Supergirl must have been flying over the cave when I discovered the urn!"
Now its Todd's turn to show his perplexity. He can't recall ordering her to do anything bad and he can't believe he has done so!
Suddenly Linda Supergirl Danvers is absent. Thirty-one minutes later, she walks back into her office. Supergirl has been out vandalising - creating a
"runaway tornado of junk"
at a junkyard. Fortress of Solitude time: to catch the up-to-the-minute. Because with Todd in Linda's office, who's making master with the alien-control artifact?
Supergirl finds Todd and they hit Florida. She takes off and returns with what could be a twin, because he is: Travis Baxter! He's been lurking in New Athens. Intending to rob his own brother, instead he found a diverting read in Todd's dairy.
Travis pushes his brother aside and lays his palm on the urn, commanding Supergirl's flying powers to go awry. He kicks Todd over but Supergirl's collision above brings all the cave down on them. She carries them out, the urn buried behind them, fixed and unmovable and surrounded by rock.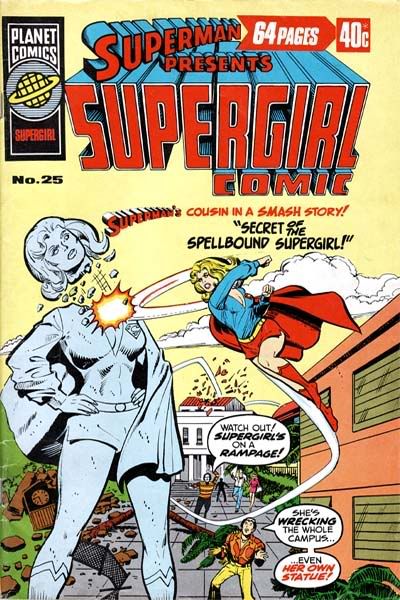 Cornelius
Reading: Ah, the sweet craziness of an Otto Binder SUPERMAN story. And Curt Swan and Ray Burnley weren't along for the free booze: I've picked up SUPERMAN FAMILY SHOWCASE volume 1. Also polished off the UNCANNY X-MEN: RISE AND FALL OF THE SHI'AR EMPIRE written by Ed Brubaker. The art of Billy Tan shines when the inks are good and dies a little on other pages. Professor X isn't drawn well anywhere. But when the coloring works, because it, too, is a darkening mudslick at times, Billy Tan comes out like a sunny day. Notably on Polaris. The utilised greens there are most wonderful. For an X-Book without many of my favourite characters in it, it went well! Bru keeps inproving his retro-fit Mutant, Vulcan (a third Summers brother) - where as I still can't say the same about Sentry in AVENGERS books. Nightcrawler is a favourite X-Character of mine, and now so is Bru's character, Darwin. (Vulcan and Darwin are writer's pet characters if ever there were any - not that there's anything wrong with that.) Vulcan rises in the ranks in this the same way Christopher Rudd goes up in Mike Carey's LUCIFER.
Listening: Wrenching gospel.
Flicks: RAGING BULL
DVD: THE I.T. CROWD
VISIT: The Auckland Public Zoo. I went with human shields Ange and Rache in case of any kerfuffle as I intended to exit again. The tigers wouldn't come out and one of the elephants was dead.