SUPERMAN'S PAL, THE NEW JIMMY OLSEN #137 is several issues into the phenomenon that was the Kirby Run on this DC title. Plugged into Kirby's Fourth World event, JIMMY OLSEN #133-145 became arcane reading for DC fans, and for any Marvel fans following him over, as well. This was the King left to his own devices. Pure Kirby! And Kirby that had not been seen before very much...
This was always my favourite Jack Kirby book in that Grand Parade. It competes well with KAMANDI. I had no access to THE NEW GODS and THE FOREVER PEOPLE. This, I read in ESSENTIALS-like black and white. Where the Vince Colletta is particularly appealing.
"The Four-Armed Terror!"
is brewed by Jack Kirby and inked by Colletta. On page one we find, in Jack's words:
"This is the being with no name! It is the shape of Man... but it is NOT Man! Yet, it lives and breathes and hungers! It wants Food... the kind of food the forest doesn't grow! But the food is there! IT'S THERE!"
The Four-Armed Terror is breaking its way through rough terrain. There's no mistaking the art! It's a Kirby Monster with Colletta Grain. Coloured pasty yellow, it's "comin' atcha!" Four arms, no pupils, double-shoulders like medicine balls, hands like great-fingered catching mitts!
Two of Jimmy Olsen's Motorcycle Pals lay in this Thing's way, as it happens along. Large three panels a page show it mowing through them. They miss their leader, Jimmy.
"Yeah, it looks like we "Outsiders" had better forget Olsen and elect a new leader! Too bad, though! Olsen was the best yet... A real GROOVY cat!"
The Four Armed Terror changes the subject and they fight back, Gandy using his blaster.
"Far out! This feature creature swallows my bullets like a self-sealing tire!"
"The Wild Area's getting wilder! Let's split!"
This issue has a lot of one page splash-panels. Page four and five show Jimmy Olsen sitting at a device of outlandish technology. And you've never seen earphones like this! The intro accounts for where we find everyone - Wild Area, Zoomway, Habitat, Outsiders, The DNA Denizens. Jimmy and Superman are situated right now somewhere within the great cavern situated underneath modern America. Superman mentions that
"The Solar Phone is their latest invention, Jimmy!"
It's a big phone!
"Among the variety of living species produced in the "Project", the "Hairies" are amazingingly productive! They are mechanical geniuses..."
Their Solar Phone sucks in radio-signals from the stars and converts them into some kind of cosmic Syd Barret patterns. We see the Hairies in communion from where Jimmy and Superman stand, them and the Newsboy Legion sitting cross-legged in rows like a hippie school photo. They mumble dialogue even Bob Haney wouldn't write. (Just kidding. He more or less would.)
Just by the way, I'm refraining from all remarks pertaining to the redrawing of Superman's face. The issue is distracting.
Page six is one of
those
collages! See everyone float!
"Each of us hears the music in the way it pleases him most!"
(I wonder if a woman would utter that today? But here, so says the blonde.) There's more on page seven and eight, a double page spread. Eastern religion, planetoids and giant flowers form the landscape. Kirby was so good at these. Though supposed to be toned black and white, there is a yellowness and streaks. But it's unimposing. Superman's impressed and we should be, too.
In two half panels, everyone is jolted back to reality. Marching on, we find Superman getting instructions from a view-screen. The Newsboy Legion want to go with him on his security detail. Not permitted to, the Generation Gap is invoked. In another one page splash, they put their heads together. It's drawn from the point of view of looking straight upward although Jack uses his poetic license the way he damn well wants. (There's a similar panel with Thor, Balder and Sif in a THOR, although that has only the size of a quarter of the page.) Their brief rumination results in voting Jimmy leader on the grounds that A) he was the Chief of the "Outsiders" and B) they want him to come out with what's already in their hearts and minds. You'd think Superman would know by now not to try and instruct a Jimmy or set of Jimmy acolytes. He don't! (sic)
Meantime, the beast with the arms is pounding his way through rock and tech falling out of the walls. His hunger plagues him.
"Nuclear Radiation! He doesn't know it by word, but he feels it as an emptiness inside himself... that must be filled!"
He has come across a booster unit carrying power to the "Project" (as "Everything" is ringed) from a central atomic pile. The repercussions are felt through out. The Tree City of Habitat is stricken as the juggernaut tears in for its nourishment. The tree-roads of Habitat are remarkable. (Bikes driving up trees - ah, Jack!) Evacuation ensues. Superman is closing in, trying to shake the Newsboy Legion in their souped-up Whiz Wagon. Superman goes
"supersonic"
and they would eat his dust if they had been chasing a combustion vehicle of that capability. Being Superman, its all solar power. He's so non-toxic, sometimes.
Superman zeroes in, punching his way through the tumbled debris. "
"Our rivals at the Evil Factory have produced another "first"! That thing is absorbing and feeding on radioactive energy!"
He gets hammered by many hands at once. Kirby's text informs us that at the "Project", its counterpart is the product known as D.N.Alien. Superman belts him across the terrain. His hypothesis; that this is something bred for surviving nuclear strikes.
The relentlessly tenacious Legion and Olsen catch up. Jimmy has a gift from the "Hairies." It's a gun of sorts. Anyway, it has a trigger and Jimmy has it aimed. As a gun, apparently it sounds like a harmonica. It fires condensed sound wave pressures. But what's this? Superman is certain their yellow problem-child has two brains. (
"To coordinate his complex body structure"
) (Huh?) And now it actually retaliates - firing coruscating energy beams. Physically dense, they entrap everyone and then begin to close in, so as to pulp the inhabitans. The enclosure is now an evil pink egg. Even Superman is tumbled over as it is raised and hefted away.
At the Evil Factory, Simyan and Mokkari follow their cat's paw's progress via surveillance. They are looking forward to the destruction to come.
And in the last panel, splash no. 7 if you count the double-page spread as one each, we see a battery of eggs hatching - each one issuing a recognisable doppleganger to the power of...?
It's a cliffhanger! That's all you get. Sorry.
Cornelius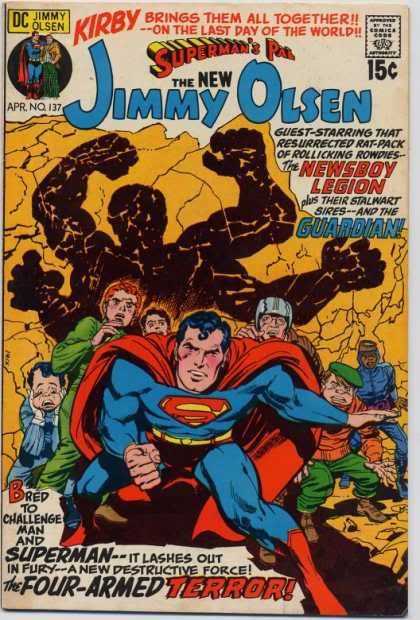 Reading: Ah, the sweet craziness of an Otto Binder SUPERMAN story. And Curt Swan and Ray Burnley weren't along for the free booze: I've picked up SUPERMAN FAMILY SHOWCASE volume 1. Also polished off the UNCANNY X-MEN: RISE AND FALL OF THE SHI'AR EMPIRE written by Ed Brubaker. The art of Billy Tan shines when the inks are good and dies a little on other pages. Professor X isn't drawn well anywhere. But when the coloring works, because it, too, is a darkening mudslick at times, Billy Tan comes out like a sunny day. Notably on Polaris. The utilised greens there are most wonderful. For an X-Book without many of my favourite characters in it, it went well! Bru keeps improving his retro-fit Mutant, Vulcan (a third Summers brother) - where as I still can't say the same about Sentry in AVENGERS books. Nightcrawler is a favourite X-Character of mine, and now so is Bru's character, Darwin. (Vulcan and Darwin are writer's pet characters if ever there were any - not that there's anything wrong with that.) Vulcan rises in the ranks in this the same way Christopher Rudd goes up in Mike Carey's LUCIFER.
Listening: Wrenching gospel.
Flicks: RAGING BULL
DVD: THE I.T. CROWD
VISIT: The Auckland Public Zoo. I went with human shields Ange and Rache in case of any kerfuffle as I intended to exit again. The tigers wouldn't come out and one of the elephants was dead.
Jimmy as he had been known...