No one yet? Okay, then...
New Avengers #31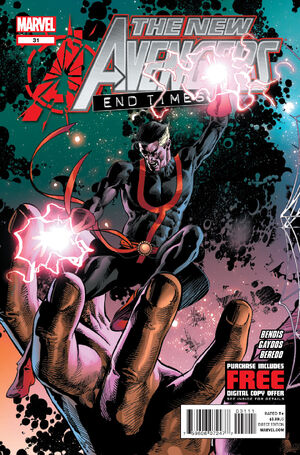 Ho hum. Same old.
Same old. Jess & Luke still agonizing if its right to raise a child as superheroing parents. At least it looks like that talk is finally ending. And Still no dilemma of TBolts mentioned in these pages IIRC.
Same old. Danny & Strange prattling on about the team future
as if
the Avengers always fold with a leadership change. Their dynamic feels as unmoving as it does in Defenders which they oh so weakly(read: poorly) allude to. The Lamborghini bit was funny.
Same old. It's like a new Daimon Hellstorm every MU appearance he makes now. Hell, he even changed his name No-Prizingly from Daimon HellSTROM. Hellstorm is his codename not last name. His motives and agendas, while understandably varied, are always barely explained and continue to detractingly clash from his shared MU presence.
Same old. No Sorcerer Supreme on Earth. It was the most important plot point back with Drumm but once that arc finished it's like "WHO CARES?". Maybe this evil spirit presented 'secretly invading' the New Avengers ranks with the skimpiest of clues for readers will give the MU a goto mage again.
Same old. Dinnertime. Just more shawarma for marketing cameos by DD(take that FBI agent), Wolverine(out of beer), Spidey(funny $13 bid), and Thing(huh, the only bad art inside with the same old good Deodato art).
Same old. Hand is a puppet. Again. Kind of a cool energy spear as far as flash in the pan story elements go. Cool to see Kale guest star doing whatever she was doing from whatever last time she was doing something else.
Same old. SHIELD as confusing as ever. Are we to take J.I.Hill (as in Jetpack Issue) word that SHIELD authority supercedes FBI and Agent Colt (whattaya know he is possibly an 'old' character too
http://marvel.wikia.com/Category:Jeff_Colt_
(Earth-616)/Appearances). And here we go with the vague organization labelling again with whatever task force he was not mentioning flat out for un-teaser impact.
Same... okay, Captain Marvel is new. And it was nice to see Carol's new ID finally come to these pages. Even if she will be changing back and forth 'til every writer gets on board with her chronology. She was a believable true friend to Jess. And choosing her as the next host victim of the unsaid entity is intriguing (even if underwhelming at the same time.
p11-12
http://www.comicbookresources.com/prev_img.php?pid=13898&pg=1
http://www.comicbookresources.com/prev_img.php?pid=13898&pg=2
p13
http://dcomixologyssl.sslcs.cdngc.net/i/4434/31913/dff265937cd61cf96e2c406008dd0921.jpg?h=4cc2fadeffd0b3adada01a1f7447fbc1
p14
http://kellysue.tumblr.com/post/33784192868/new-avengers-31
http://dcomixologyssl.sslcs.cdngc.net/i/4434/31913/a0c39951198789ff957160d9d9af7715.jpg?h=5ffbdd64aa6dca21720cedfd66a6246e
p15
http://www.tumblr.com/tagged/new-avengers?before=1350508979
http://dcomixologyssl.sslcs.cdngc.net/i/4434/31913/50d6c76a9932b94313620582a4a7f5cb.jpg?h=60dc3f819db12cc173abb1d17e078551
Comments? What the word on any new New Avengers title as of now?