Well, comparitively, sure. Constrictor was really coming into his own during The Intiative Days with interesting characterization, so for me, Frank's been generally neglected since. Cameo "revolving-prison-door" appearances since hardly do his development justice.
As for the other villains in the so-called M.O.E., it would have been fun to see Halflife & Dreadknight present. After rereading it there appeared to be more silhouette than cool Easter Egg cameos. Here are some whos who answers noted in passing from Day 1 reactions to the issue (w/offensive entries removed) from fourchan posters:
Quote:



Snot monster is gross, man! Who are these jokers?

Snot is a mutant from the short-lived Hellfire Academy from Wolverine and the X-men.

"pointy sticks and church water"! "force quit"! Oh good, it seems like Hopeless got even worst at coming up with spell names for Nico...

Doing Daredevil 1.50 not this.

The vampire guy was in The Hunt from latverias school but he wasn't full blown villain

Wait, so Bagalia is just a super villain shanty town? Why would anyone want to live there? You'd think they'd have some higher standards.

I bet Hopeless doesn't realize that this is the future of these kids if they go evil legitily by the time he's done with them. If you think teen heroes get treated badly, B list and below villains get it even worse.

Also, come on man, the main reason anyone wanted you to storytime Undercover was so that they could make fun of it. I'm sure there's people that genuinely want to read Ultimates, not.

Wasn't Morbius cancelled at 14? I can't remember. Morbius the Living Vampire #1 43,883. Just sayin

You think the editor cares? They just needed warm bodies for this. Or not, as the fish guy, Mako, was DECAPITATED by Lady Bullseye last time he was seen.

All these teen super-villains that have been relegated to no-line mooks that are just there for these guys to easily beat up upon entry.

Buy my mates an Energy Drink! Oh god, really? Really? They're supervillains and they worry about Underage Drinking? God, that is so lame.

Hopeless allegedly asked on twitter for teen super-villains he could use for this scene. Presumably, he just did a quick wiki search of the responses he got and then sent the list of names to the artist.

I enjoy reading Arena and Undercover in these threads. Despite all the rage they get, they aren't THAT bad, and the rage alone tends to make these threads enjoyable. I probably wouldn't read them if you didn't do these storytimes periodically though. Ended up just reading them so I could stay up to date for when you do do one.

So far, Undercover has been pretty fun though. Personally, I like Cammi, Axebro, and Death locket. Bloodstone ain't bad, and personally I don't think Hopeless writes the runaways THAT badly. Not enough that I can't enjoy the other characters at least.

Academy characters are worthless though. Luckily the only one that's left is Hazmat who I honestly never liked to begin with.

The characters being used will be blamed if it tanks. "Those kids don't sell!"

I wouldn't buy it and read it if I didn't like it to some degree. I don't HATE it. I like it. I'm not going to say it's great though. The books I am disinterested in, I don't buy.

Do the Avengers even know or care what happened to these kids?

Who WOULDN'T want to be on Whitney Frost's team?!

At least he knows how to write girls who won't take no for an answer when they want to dance.

Characters getting killed never bothers me. I'm too desensitized to it I guess after reading comics for 25+ years now. They always come back. Please come back Shaman.

No man, this is really, really bad. This dialogue attempts to sound "hip", it's painful.

Chase getting hit on by Grapplers members. May be painful dialogue above it aside, I approve of this.

Cammi even knowing what a stanky leg is is Suspect.

mohawk
>chin stain
>barely older than 19
What's with those chicks?

They're teenage c/d/z listers. If they die, they stay dead unless there's an artist mistake.

>>60613298
>Hellstrom perving on Nico

>doing the Stanky Legg
>in 2014
>Cammi knowing what the Stanky Legg is despite spending the past couple years in space, and prior to that, being from bumhick nowhere Alaska

writer tries desperately to show that he's hip with the cool kids

Pumped to check out LaFuente on Doop

So thats where the Wrecking Crew go to lick their wounds

Adult heroes giving even an ounce of a crap about them? Haaaaahahahaha. Not bloody likely. They won't care about the teen heroes till its time to chuck a couple into the event meatgrinder to justify their hero v. hero nonsense.

>Wait how old is Nico supposed to be.
She started adventuring at 16, it's been about a year since then, so 17. At best, since Chase is still 19.

Nothing to see here folks, just a creepy old scientist salivating over a teenage girl.

Stanky Legg: A dance that's like 5 years old so I don't know why Hopeless thought it would be a hip thing to reference in The Year of Our Lord Two Thousand and Fourteen.

Whose the dude with a mouth for a stomach?

No Morg. Did Nico up and kill him?

It's a running gag with Deathlocket at this point. People perv on her because she was popular before anyone heard her speak (and be a wallflower non-entity)

so we have like three scenes that can be construed as adults creepin' on the underage

>wearing a spider-man shirt in Bagalia
I just don't get this place at all

>Melter and Egghead present
So the Young Masters had any kind of ambiguity stripped from them. Dammit.

I don't think Big Zero or Coat were there.

>>60613598
Probably not, Excavator there is a minor.
that Anon's referencing Hellstrom/Nico, Creepy scientist/Death Locket and a scene in #1 that's pretty much Creepy fan/Death Locket.

Actually, I like Cammi. This role just isn't her.She watched two aliens kill each other and told the winner "Hey, I want the body!"Morality Champion Cammi is just out of character.


Also is Damon Hellstrom like a dark hero/Doc Stranges new apprentice and an evil villain, I feel like there has been very little editorial mandate about him in the last few years.

>>60613618
>All that lipstick on Chase.
In the middle of this dreck there is something I approve of in it.

There's multiple Hellstroms; That came from Bunn's Venom run.

Cammi still has her glow in the dark neck wrap - What, is it bolted to her skull or something?

what's wrong with Cammi's shoulder Tattoos? I think they're cool.

Her features bug me-. It's not about the butch look she just looks like a latina from the south not a white Alaskan. There's a huge difference.

cancelled by issue 8

To be honest, this twists surprised me a bit. I figured they'd be going to see Zemo first, then hunt down Arcade because Zemo doesn't like Arcade for his crassness and vainglory.

So wait, do people really not like Cammi's tats, or do they just not get them?

the only way I can see this working is if we either get some Superior Foes of Spider-Man stuff where it's just the kids and villains doing stupid, or the kids somehow find Sinister and he clones all the dead kids and Hellstorm does some soul sticky thingy to where it's all status quo

God I miss Mettle.

Hanging out with villains in the first place implies that they are villains. The Young Masters were anti-heroes. So wrong.

Walker's was a good artist. His work on Thunderbolts was great.

>Cammi has Drax tattoos
That's...
That's adorable.

>God I miss Mettle.
He got my Respect, Anon.

>>60614150
The 4 good issues of Arena
That One
Death Locket's backstory one.
Christos Gage's fill in issue (the best of the lot)
And the last one.
The others just had 'decent moments'

Pretty sure it's already been confirmed via either interviews or solicits that Bagalia has a bunch of different factions. At the very least, we know Constrictor is allied with Zemo, and Constrictor hates Arcade.

MUDBUG ROCKS

Cammi was a pain in Annihilation though. I liked her, but she was annoying and useless as hell.

Isn't the whole point of this that the Arena survivors are gonna be hanging out with supervillains. Does that mean that they automatically become super-villains as a result?

>>60614233
I'm still hoping that Cammi,s mom is an LMD or a Skrull.
Either one would actually work well.
Shield/Sword wants to keep an eye on her, but her mom is dead, so they just make her a robot. Or the Skrulls are pissed at her for being a pirate, and want to grab her for some space bounty that I'm sure is on her head.

I can't wait for May. AU is getting double shipped, so when the comichron numbers get posted, we'll have 3 data points. I can only imagine the falling arc of sales.

>Hopeless asked on twitter for teen super-villains
It really bugs me how there isn't some database at Marvel HQ that they can just look this stuff up. I mean, I doubt it would be THAT hard to do.

The Excavator-Made me laugh.

>>60613567
It's clearly a superior spider-shirt.

>>60614702
Wikipedia
Comicvine
Marvel Wikia
Marvel has their own wiki as well I think
Is Marvunapp still around?

fish guy called Mako, who got his head blown off in the mini-series Vengance, which was also the only place he showed up before. Though apparently, he was a test tube Atlantean super clone to begin with, so maybe that's just another one. Incidentally, Excavator joining the Young Masters makes a lot of sense.

Arcade'z in fer a whoopin


"A super villain shanty town" - HA!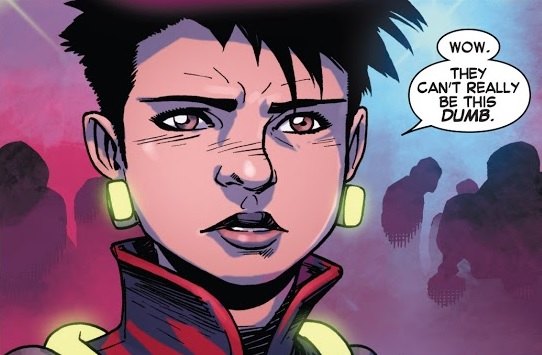 ---
I miss Dad and Dan.