Previous Post
Quote:

Shazam is essentially Captain marvel isn't he? If so, he's a real bargain at $1
Quote:

Cable, I think it depends a lot on what level his psi is at, which seems to change so much I don't know. If you treat him as classic cable, with virtually no psi, IMO Wolverine is more formidible (and you've got Prof. X psi already), and both Wolverine and Hawkgirl can punch out of their weight class (with the nth metal weaponry, she's a threat to Superman level opponents...with her durability she's also vulerable to street levellers, but don't underrate the nth metal).
Actually, if anyone in the Enforcer group is going to beat Cable, I think it's probably Hawkgirl, but even Cable without psi is very formidable. He's got a lot of tech including a big gun, so that range weapon gives him an advantage over Hawkgirl, who needs to get close. But up close, Cable's stalemated Wolverine hand to hand and even beaten Captain America: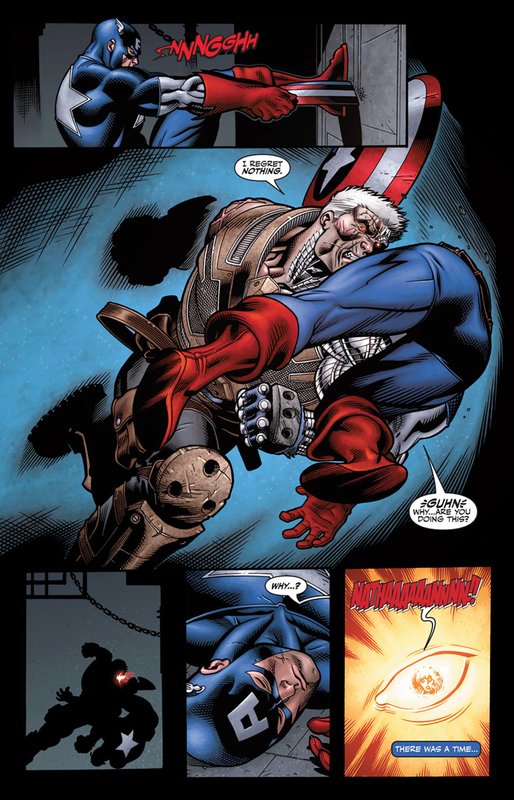 Quote:

I don't know how Flash is being written now, and he's always struggled with some lower level foes, but he's also shown the ability to own top tiers when needed...plot device power.
Yes, Flash has a lot of plot device power, but so does Green Lantern's ring, and as I pointed out in another post here, Green Lantern's cosmic rogue's gallery is on average notably stronger than Flash's Earth-bound foes.
Quote:

I also think you may be undervaluing Reed's 'pull it from my butt' tech power, though the gap has closed quite a bit in the past decade. Black Panther may be the best value there though, as he had some VERY impressive showings in his last solo series...
Yes. I pointed out that about Reed in my evaluation. The thing is yes, if you have indefinite prep time, Reed is going to be more valuable than Tony, but if you have no prep time, Iron Man is going to be much more potent than Mr. Fantastic. I'm just saying on average, Green Lantern (Hal Jordan), Iron Man, and Cable is going to be a more powerful team than Flash (Barry Allen), Mr. Fantastic, and Hawkgirl. The difference isn't humongous though and the more prep involved, the closer it will be.
the $2 differential makes it a debate. Cable vs. Hawkgirl would be a good fight, and you might even say Cable wins a majority...that is true. BUT, what is also true, without the psi, Cable is a threat to Spider Man types, not much more than an annoyance beyond that.
Both Wolverine and Hawkgirl have shown the ability to really be a threat to top tiers or near top tiers, even rather straight up. So yeah, if you're up against lower tier foes, Cable is probably better, but what those two bring in a 'most effective' team situation is the ability to be a real threat to top level opposition.