Finally! A likable issue!
Flash 241
http://www.dccomics.com/comics/?cm=9525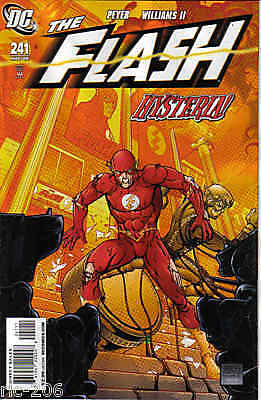 s
p
o
i
l
e
r
s
HATED:
-the cover. Shameful coloring error with Inertia (they got the solicit at the dc site right. No point to the guns. And y'think a JLA member museum, especially FLASH, would have futuristic fire suprression systems and fire prevention environment.
-the title page - wasted page with recycled headshots repaid for.
-the 'Brady' kids still have powers and are treated as akin to teammates instead of tots.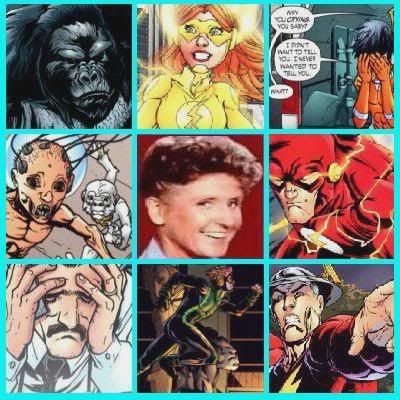 -no footnote or mention of Salvation Run with Grodd's miraculous recovery and return.
-Spin's origin - it ended up so uninteresting.
-some of Wally's narration, particularly his reasoning for saving Inertia (the tool). Not as noble as hope for added to the shock of him (
still
) being there.
-too many superfluous splash pages in one comic. Extra attention to content, context, and and character/background art is a must. One too many this issue.
-the speed energy effect leaking from Wally's eyes.
-that Wally can one time punch more effectively than countless Iris punches PLUS superstrong Jai thumping against Grodd
But seriously, there were likable parts:
-the reader disorientation of the opening splash
-Grodd did something to Jay storyseed
-Negatonin and FEAR DS details
-the yellow motif look (hey, Linda West should try it on just for fun...)
-the thought of 2 kooky little characters running around Central City
-Flash putting up a front for Iris
-Raymond cameo
-"Race you, Dad."
-Inertia story moving on
-good cliffhanger and the fact something hopefully interesting is happening with the kids (hey, wasnt it a van and not a limo...)
Did you like it? Never read the OTHER 241; how does it compare?

---

say that." -- Wally West, Flash v.2 #50