> > After all that hype this is what we got, and inertia is the new kid flash, can't say i saw that comming but they did say there was a twist at the end. Any thoughts I know kelson wont let me down.
Not Kelson, but thought this was REALLY good! Great jumping on issue for the Flash title, too.
Final Crisis - Rogues' Revenge 1

solicit:
http://www.dccomics.com/dcu/comics/?cm=9676
preview pages:
http://www.newsarama.com/php/multimedia/album_view.php?gid=537
video:
http://classic.newsarama.com/nycomiccon2008/DC/crisistieins.html
interview:
http://forum.newsarama.com/showthread.php?t=153412
s
p
o
i
l
e
r
s
Not overly familiar with the art, have only his Avengers backissues and none of the past Flash that the internet reports. Rushed effort and/or inking and coloring REALLY affects some artists more than others. Did not like Omega Flight combined art results at all. On the other hand the poser posters at his gallery mostly look good:
http://www.comicartcommunity.com/gallery/categories.php?cat_id=285&page=3
It seems like, it would be, hit or miss, by issue, but in this instance came across as refreshing and consistent style that meshed well with the good story. Hit here.
Not overly familiar with the Rogues full history/motivations. The developments were specifically/obviously continuity cognizant which was a BIG plus for the book. A title focussing on villains is hard to do (Iris' role helped as a good element of good). But with Cpt Cold's narration the story was good, easy to follow, and the main villains recognizable. THE VILLAINS:
Captain Cold: Nice to see at least
his
costume is torn from Salvation - still, it's possible the others changed. Really enjoyed his unspoken rule and how it is critical to the theme of the arc. It helps explain why the Rogues have always been less than successful[read: incompetant] in their past failings. Especially since almost any one of 'em could kill almost any hero if a writer had the whim for it for all these years. Focussing on the #1 rule really made the closing line more meaningful. In fact, he had many excellent one-liners.
Trickster: Meeting him was an intriguing revelation for me; never heard of him but want to hear more after this story. Trickster is synonymous with evil Flash villain so it's a good legacy character with respect to the reformed original. Curious about Axel taking up the mantle now, BOOM shoes and all.
Heatwave: Fire villains are sick and should burn in hell. Cold being there to reign him in makes it barely bearable to be in The Rogues and not pulverized by a hero, villain or common citizen after all this time. Barely bearable.
Mirror Master: Has always been a favourite Flash fantasy foe with a power suited to comic book world. The pseudo science here makes for a fun Flash felon foil. Actually, alliteration aside, the safe house door and mirror ball prison were perfect - hopefully McCulloch will never master the skill though.
Weather Wizard: He was okay. Hopefully he too, remains somewhat a stumblebum mastering his weapon to rationalize his C-class skill. Here there were moments where his controlled - all right he has summoning ability like Thor but dont think he should be able to manipulate as easy as Storm. Neat moment with him in the dark about the 'red' lightning.
Piper: Did not care for him at all. The quick reuse of character is good but there was lots of unclarity with his known status which interrupted the story flow. It'll probably be explained - hopefully NOT by a mickey mouse wannabe with the talking voicebox. His treatment of the generic(established?) detectives was a bit confusing for a reformed man.
Libra: His appearance was intriguing. The cliche lumping as many DC villains in a cameo appearance was a bit annoying without explanation. All reorganizing from Salvation? What order does this tie into Requiem #1 where they dont all show? Still, his mystery identity and fallout for killing J'onn makes him a must see villain.
Inertia: The continuity with the museum just being trashed in Flash title was bothersome. It's possible that there were quick repairs and replacements. Other than that his reanimation sequence and response to being frozen were both very creepy and very cool. The SHOCK ending is FASCINATING!
And of course, YOU KNOW WHO - or do you? Can NOT wait for #2!!
If you didnt care for the review, try the freebies: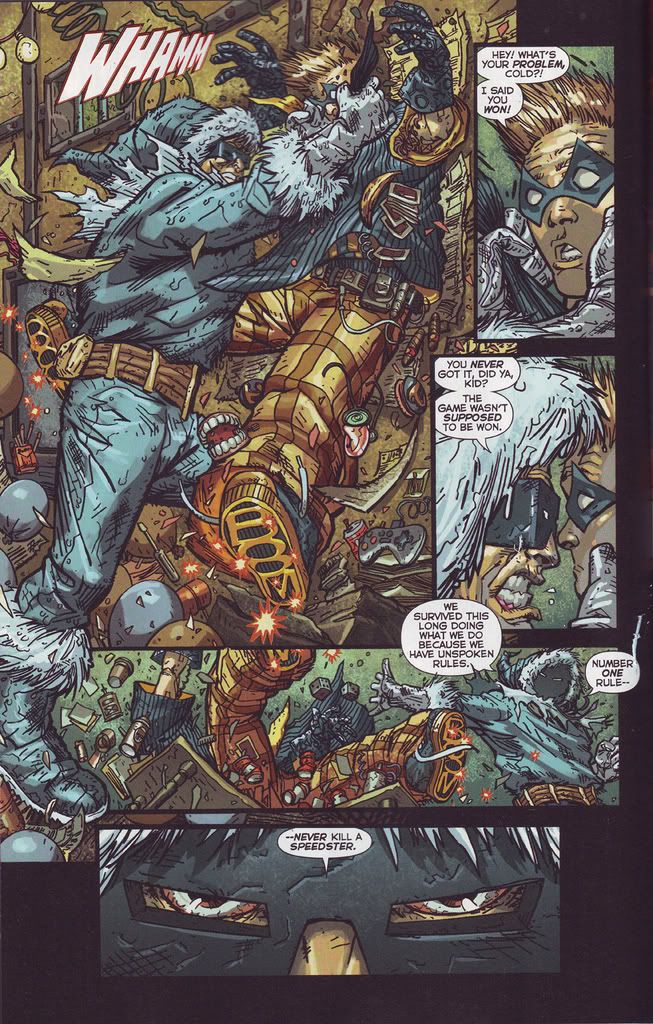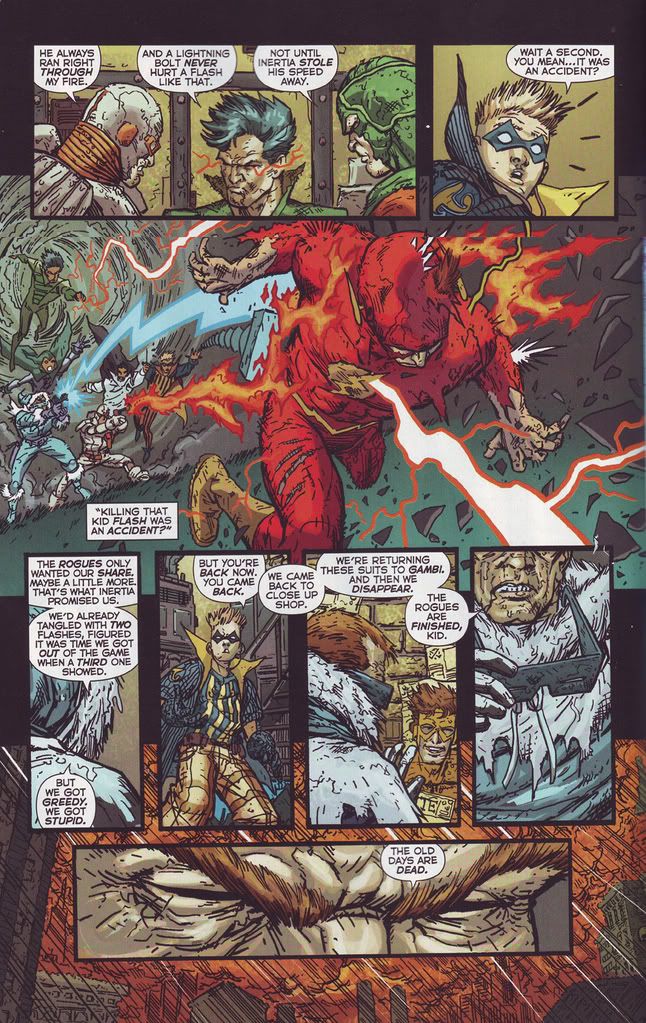 ---