Previous Post
> Can we get a roll call
>
>
http://www.comicbookresources.com/news/newsitem.cgi?id=13031
>
> I recognise, Brian, Spitfire, Black Knight, but who are the others?
In addition, the cover image features Roma (daughter of Merlyn) as well as Pete Wisdom and John the Skrull. The others look like additional portraits of the announced cast such as Captain Britain, The Black Knight, and Spitfire. We also know other supporting cast members will include Alistaire Stuart and Gordon Brown with another big name joining the ranks in issue #5 according to the article. Here's hoping that Meggan (bringing her back from the "dead"), Union Jack, Micromax and numerous others show up as well given that Cornell & Lowe discuss their intent to 'plunder Marvel Britain for cast members on a regular basis.'
And while I respect the creative team involved in this immensely for even attempting to undertake the project, and wish them the best of luck in the endeavor, it's hard to believe that Alan Davis isn't prominently attached to this. It'd be a dream come true to see him illustrating the characters he helped to flesh out so well year after year.
That said, really looking forward to giving this a try!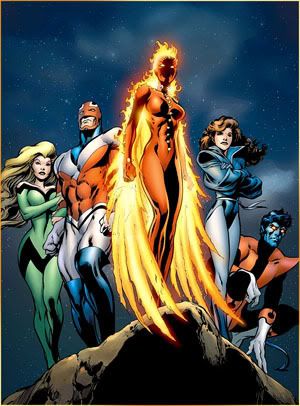 > > I recognise, Brian, Spitfire, Black Knight, but who are the others?
I might be keen on this myself. I can prolly go without FANTASTIC FOUR, though I imagine it'll suit trade best. Which of course tends to be the case in the main, at least for me. I'm kind of wondering if this will compliment Alan Davis' CLANDESTINE; that's frankly part of its possible appeal.
Corn

Reading: METAL MEN SHOWCASE vol. 1 (it's the most!) and the THE HISTORY OF NEW ZEALAND by Keith Sinclair.
Listening: Coyote Grace, Nick Cave and the Bad Seeds, Husker Du, Comsat Angels, Jane's Addiction and Ray Wall Band (songs about superheroes doing what superheroes do - curious, entertaining novelty indulgence; and they're really good at it.)
Watching: EXTRAS and FLIGHT OF THE CONCHORDS.
Flicks: THE PRINCESS BRIDE.

RIP: STEVE GERBER