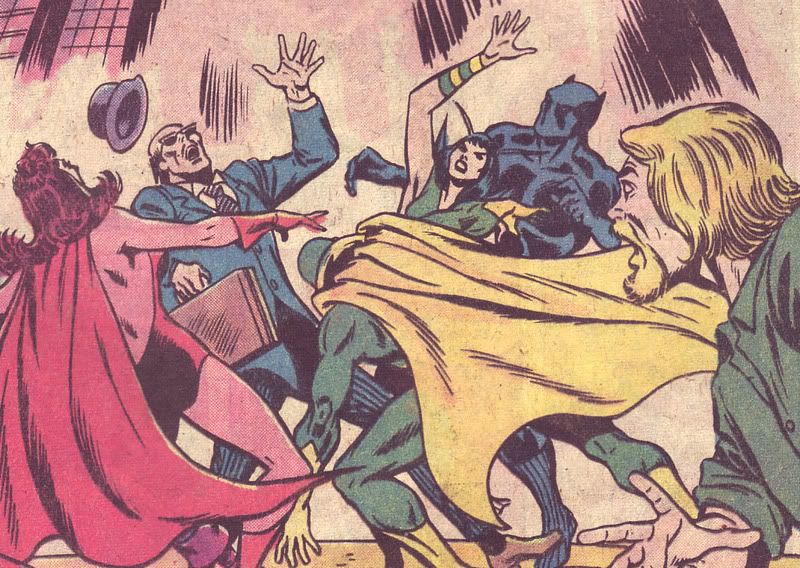 Dave Cockrum drew himself into this Bob Brown-penciled AVENGERS page. He may just be gaping at the Witch.
> Here we go....
>
> It looks like Brubaker is finally taking abreak from his long, drawn out Red Skull storyline to tell a three-part story I'm....uninterested in. Glad I dropped this title.
The pace
is
glacial. But I'm glad to say I'm still with it.
> I still can't wait to see Project Pegasus in NOVA. "Unexpected allies?" Maybe some obscure heroes and/or villains?
Me, either. NOVA just seems to get better and better. The Silver Surfer is more interesting to me now as the reassigned herald of Galactus than he has been in a long time doing anything else. I was considering letting NOVA become something where I wait for the tpb - but nahhhhh.
I'm curious about GUARDIANS OF THE GALAXY and the ongoing ETERNALS book - but I guess I'll wait on them. I dove right in with CAPTAIN BRITAIN AND MI: 13. I still prefer my comic/s to be 32 page periodicals.
As regards Project Pegasus - that had some of the best TWO-IN-ONE moments of all. NOVA is a great place to see it pop up again.
> Brian Reed delves into Carol Danvers' past in the Air Force. Should be interesting. Maybe Mystique can be inserted in here somewhere. In any case, can't wait to read the story, as usual.
Good title. Like you need me to tell you.
> Enough of the X-events already. Sheesh. One person season? And yet another Wolverine mini. Sweet mercy. Where are you Elf with a Gun?
He lives and he shoots in our hearts.
Corn


Reading: NOVA #12-15, assorted 60's MUTT AND JEFF, HOT STUFF and SPOOKY THE TUFF LITTLE GHOST, SUPERBOY #153 (my favourite SUPERBOY story written by Frank Robbins and depicted by Bob Brown and Wally Wood - best Bob Brown ever this S/A series!), HAWKMAN SHOWCASE vol. 2 (with any amount of tasty Murphy Anderson; Anderson even inked Kubert later on in the volume), SAGA OF THE SUPER SONS collection principally by Zany Bob Haney and Delightful Dick Dillin, PORT OF SAINTS by William Burroughs and RE/SEARCH #10: INCREDIBLY STRANGE FILMS - now, some classic old reading.
Listening: The Doors, Sam Cooke, James Brown, John Coltrane, Django Reinhardt and Billie Holiday.
Watching: DR WHO, LIFE ON MARS and OUTRAGEOUS FORTUNE. (Note: OUTRAGOUS FORTUNE is not some squalid game-show. It's a Kiwi dynastic bogan soap riot in its 4th season and I've only just discovered it.)
Flick: THIS IS ENGLAND.