> I read that profile a day ago and remember thinking the exact same thing. wierd, huh?
Will Eisner and Mike Ploog used to do graphics for it. It's a military mag that's been running for decades.
Corn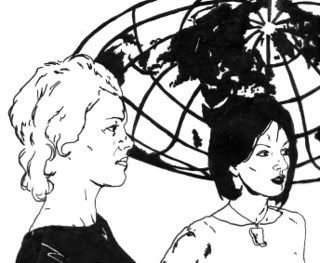 Reading: NOVA #12-15, assorted 60's MUTT AND JEFF, HOT STUFF and SPOOKY THE TUFF LITTLE GHOST, SUPERBOY #153 (my favourite SUPERBOY story written by Frank Robbins and depicted by Bob Brown and Wally Wood - best Bob Brown ever this S/A series!), HAWKMAN SHOWCASE vol. 2 (with any amount of tasty Murphy Anderson; Anderson even inked Kubert later on in the volume), SAGA OF THE SUPER SONS collection principally by Zany Bob Haney and Delightful Dick Dillin, PORT OF SAINTS by William Burroughs and RE/SEARCH #10: INCREDIBLY STRANGE FILMS - now, some classic old reading.
Listening: The Doors, Sam Cooke, James Brown, John Coltrane, Django Reinhardt and Billie Holiday.
Watching: DR WHO, LIFE ON MARS and OUTRAGEOUS FORTUNE. (Note: OUTRAGOUS FORTUNE is not some squalid game-show. It's a Kiwi dynastic bogan soap riot in its 4th season and I've only just discovered it.)
Flick: THIS IS ENGLAND.