Quote:

Bonita's probably even better, since her relationship with Hank is much more ephemeral than Jan's, and her debut as a Catholic Sister further established her as a martyr complex character. Which makes Jan a better Stacy ( especially given how she left House when he was at his worst ).
Bonita as Cameron it is.
Quote:

So if we're doing recurring secondary characters as well, we need casting for Vogler, Tritter, Amber, and House's dad. House's dad I see as Howard Stark, but the other three need further thought.
I can buy Howard Stark as the elder House. I would need to give the other three some more thought.
Quote:

Bereft of attachment to the House/Hank figure, I think the most Chase-like character is Warren Worthington pre-Apocalypse; poor little rich boy, hunky blonde looks, questionable commitment to the heroic mission, and daddy issues.
Thats a good catch with Worthington. It would even still be a viable analogy if not for the return of Archangel in X-Force.
I even think Simon Williams aka Wonderman, sans the blond hair, could fit that above description too.
Quote:

Hank might be a good Wilson figure, but I don't see him as a Foreman type with something to prove. And Triathlon would be a comparison demeaning to Foreman.
Aside from being black, Triathlon/3-D Man and Foreman have nothing in common character-wise. Beast as Wilson though...I could get on that train.
Quote:

True, since Alex has spent much more of his career AWOL ( from 1975-1987, he was just camped out in Arizona with Polaris ), and hasn't shown the same interest in doing the right thing. Plus, if you want heroes tempted into sex, his time as Madelyne's " Goblin Prince "...well, 'nuff said.
Those wacky Summers boys. But yeah, for this, I'd rather go w/ Alex than Scott.
Quote:

I brought up Felicia because both characters are apparently bisexual, albeit in the phoniest, most Hollywood way possible. If we're going for the character with the terminal illness, though, then I can't think of any with Thirteen's demeanor...
I agree about the bisexuality being phony in both cases. It's being used more to titillate the reader/viewer, rather than being an actual character trait.
I will say though that I think it was used to interesting effect in the Lucky Thirteen episode where had sex with a patient.
Quote:

Prodigy from the latest generation of Xavier Academy students might work, and if Doug Ramsey were still around, he might as well ( though Kutner doesn't have Doug's inferiority complex, unless you believe that his suicide retconned all his well-adjusted behavior into a lie ).
I think i read somewhere that Doug might be coming in New Mutants, which is
in my book, even though it continues to further make death almost laughable in the MU.
And yes, I can take Kutner's suicide as a retcon of his previous behavior w/out much trouble. Everybody lies, you know.
Another idea for Kutner: maybe Vance Astrovik. In many ways, Vance almost parallels Pym. Both begun their careers as rather earnest and straightforward superheroes(as Ant-Man and Marvel Boy, respectively). Both had rather public and messy trials based on personal failings(Vance's inadvertent manslaughter of his abusive father, and post-breakdown Pym being framed by Egghead). Both have had painful breakups with a significant other even though for some time they were pretty solid couples(Jan & hank and Vance & Firestar). And both have had interesting conflicts with the supervillain Whirlwind. Defeating Whirlwind got Vance and Firestar slots on the Avengers teams, and Hank...well, see for yourself -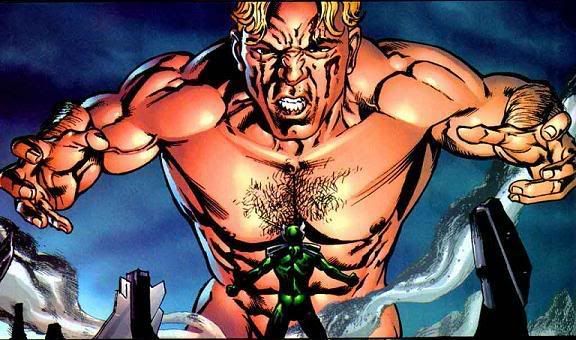 Quote:

I mentioned Hank McCoy, since they're both supporting characters who everyone loves, and characters who have shown a bit of moral weakness ( Hank may not have the multiple divorces, but his relationship to Trish Tilby came across as very temporary to me, even before he " outed " himself on national television to piss her off ). Hank's a good pal but not a character with the same drives to action as others, which may explain why he's never really had a starring role.
I can totally buy McCoy as Wilson.
Another candidate could be Dane Whitman aka Black Knight, who's pretty close to the failed relationships of Wilson. He was lovesick for Jan to the point it affected his performance as an Avenger, ignored Victoria Bentley, and lusted after the married Crystal while carrying on a dalliance with the increasingly obsessive Sersi.
Quote:




Quote:

I think it also needs to be said that for the Pym/House analogy to truly succeed, Hank needs to get a whole lot more arrogant than he's been...like, EVER.
Quote:

Fortunately, Dan Slott's done a good job of bringing Hank back to the forefront while still making it clear that he's a total mess.
Sounds good. Marvel heroes are supposed to be walking wrecks who still somehow manage to pull off saving the day. I really think if Pym is to be a viable character, then there has to be more of this in Hank's future -
- instead of the more recent slings like "You HIT Jan!" or 'Three words for why you're wrong for the job. You're Hank Pym.'
Besides, Hank can also do this apparently -
Also, I'd be remiss if I didn't mention the 'good' Ultron, Ultron-12 aka Mark. Not sure where he would or could fit, but a devoted son Ultron could be an interesting change of pace.
Quote:

By the way, if you don't mind my asking, have you kept up with the rest of Ruby's World? The latest chapter was done with certain X-realtionship dynamics in mind as targets for deconstruction...
First off, I'll say the art style suits the tone of the stories and is steadily improving, particularly the backgrounds and settings.
I'm all for deconstruction of X-tropes, just make sure you don;t let it sidetrack your story. I don't think that happened in the recent chapter though. The plot is still on track. I don't know if it was your intent, but I did get kind of a Logan/Jean vibe in the last installment. There's kind of that noble samurai thing Wolverine had going for him for awhile evident in Jiro, even though that aspect of Wolverine didn't really come into play until well after the height of the Cyclops/Jean/Wolverine 'triangle' had come to an end with Jean's death, and has been pretty much cast aside from Logan's current persona since New X-Men.
In general, I'm rather dismissive of the Scott/Logan/Jean affair since pretty much almost ALL of the 'Jean returns Logan's feelings' moments didn't exist until long after the death of the Phoenix. At the time it was going on, it was essentially Scott struggling with his feelings for Jean in the wake of her power-up, and Wolverine enviously desiring Jean for himself. And that was pretty much it.