Quote:





Quote:

I can buy Howard Stark as the elder House. I would need to give the other three some more thought.
Quote:

After watching the Iron Man movie again with my girlfriend ( also a House fan, though not a Marvel one ), it occurs to me that Tony might be an even better analogue; while he may not be a doctor, he is a disturbed genius with a manipulative streak, an addictive personality, and a small circle of extremely co-dependent friends ( Rhodey comes to mind as House's Wilson, while Pepper could either be Cameron or Cuddy. And Obadiah comes across as Vogler, to stretch it even further... )
Tony is a MUCH better House analogue than Hank. He's got the pre-requisite insufferable yet justified arrogance intact -
One would just need to up the Holmesian tendency to decay in the absence of his intellectual stimuli and we're ready to go. And we've barely gotten into his pre-packaged chemical dependency issues...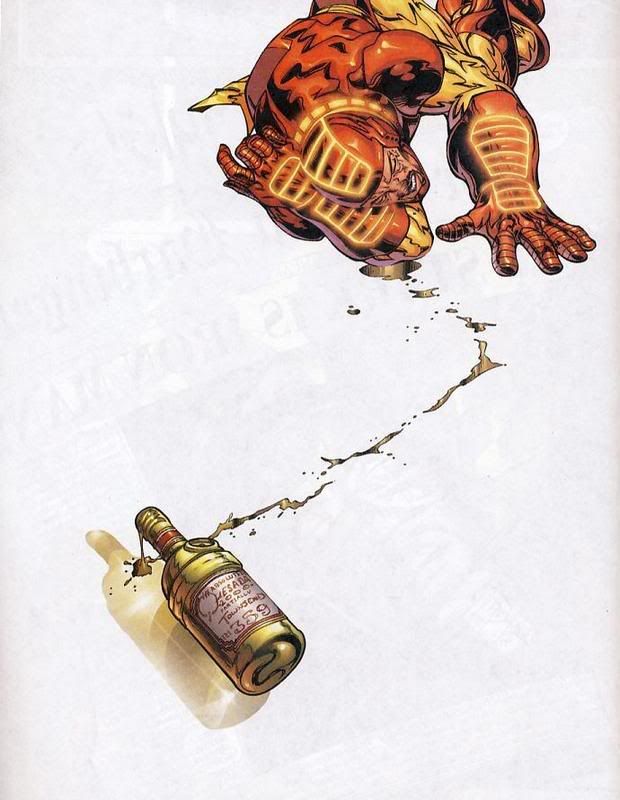 Quote:




Quote:

Thats a good catch with Worthington. It would even still be a viable analogy if not for the return of Archangel in X-Force.




Quote:




Quote:

I even think Simon Williams aka Wonderman, sans the blond hair, could fit that above description too.
Quote:

Simon would be the second best choice, but Warren eventually started being written as a competent and committed hero ( similar to Chase, even if the means in which that happened involved shackling him to Cameron ), while Simon's still a selfish jerk.
Hey, Simon's made great strides in his hero's journey. He'll sleep with your girlfriend but not rub it in your face.
Quote:




Quote:

I think i read somewhere that Doug might be coming in New Mutants, which is in my book, even though it continues to further make death almost laughable in the MU.
Quote:

I seriously hope that's not true, but it's way too likely that it will be.
I don't mind too much since his death was pretty sucky in the first place. On the other hand, there's that further cheapening of death...
Quote:




Quote:

Another idea for Kutner: maybe Vance Astrovik. In many ways, Vance almost parallels Pym. Both begun their careers as rather earnest and straightforward superheroes(as Ant-Man and Marvel Boy, respectively). Both had rather public and messy trials based on personal failings(Vance's inadvertent manslaughter of his abusive father, and post-breakdown Pym being framed by Egghead). Both have had painful breakups with a significant other even though for some time they were pretty solid couples(Jan & hank and Vance & Firestar). And both have had interesting conflicts with the supervillain Whirlwind. Defeating Whirlwind got Vance and Firestar slots on the Avengers teams, and Hank...well, see for yourself -
Quote:

Thank you for that picture of naked angry giant Hank, with Whirlwind in the foreground to less-than-tastefully cover Hank's gargantuan junk. It will provide several entertaining nightmares and a severe lack of sleep for the months to come
Yeah, if I was a supervillain, I'd be Nightmare.
Quote:




Quote:

I'm all for deconstruction of X-tropes, just make sure you don;t let it sidetrack your story. I don't think that happened in the recent chapter though. The plot is still on track. I don't know if it was your intent, but I did get kind of a Logan/Jean vibe in the last installment. There's kind of that noble samurai thing Wolverine had going for him for awhile evident in Jiro, even though that aspect of Wolverine didn't really come into play until well after the height of the Cyclops/Jean/Wolverine 'triangle' had come to an end with Jean's death, and has been pretty much cast aside from Logan's current persona since New X-Men.
Quote:

To be fair, that kind of love triangle is broader than just the X-Men, but it was my first frame of reference; especially since my intention was to have Jiro as the Cyclops figure, with Jens as the Wolverine type. The good boy vs. bad boy thing, though I tried to complicate matters ( Jiro is more restrained but is much more capable of destruction; Jens is more upfront but is just normal human in his capabilities. And Ruby's in too much of a funk to notice either at the moment ).
Jens' constant needling of Jiro was definitely the highlight of this recent installment.
Quote:




Quote:

In general, I'm rather dismissive of the Scott/Logan/Jean affair since pretty much almost ALL of the 'Jean returns Logan's feelings' moments didn't exist until long after the death of the Phoenix. At the time it was going on, it was essentially Scott struggling with his feelings for Jean in the wake of her power-up, and Wolverine enviously desiring Jean for himself. And that was pretty much it.
Quote:

I realize that it was a massive ret-con, but at this point it's been around so long that it's hard to envision the X-Books in their present without that backdrop.
While I have zero qualms about Jean one day returning, one of the good things with her current status as a quantum mechanical thought experiment is that I don't have to suffer anymore of Logan's redhead fetish. Though I still have to deal with Cyclops' current telepathic fling...*sigh*