Quote:


Marvel Zombies #2 was pretty cool.
Agreed. Wow! (Still hate that so much Zombies stuff - a Midnight Sons titled mini mightve been more appropriate.) Was pleasantly surprised that liked it after reading...
Marvel_Zombies_4_#2
http://www.marvel.com/news/comicstories.7841.Preview~colon~_Marvel_Zombies_4_%232
http://www.marvel.com/news/comicstories.7243.Marvel_Zombies~colon~_Monster_Squad
Page by page reactions...
-understandably gross cover unfortunately aimed at a limited target market considering the ALL- MU canon changing content
-very nice The Office/Guardians OTG type framing/set up. Is she actually dead mystery. Is she actually foul mouther now. Neat Munsters & girl-on-a-team comments. Great behind the scenes for Topaz.
Some
followup on the fate of The Command,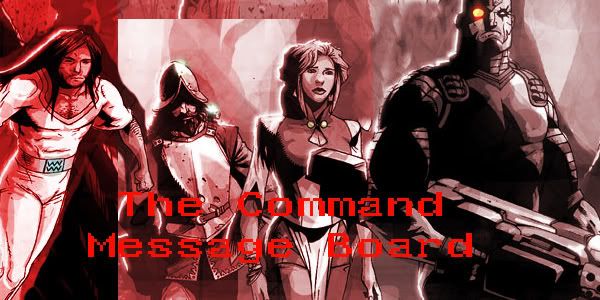 . Better than any Prev Page.
-2 pages to remind readers how evil The Clutch are (maybe a bit space indulgent)
-entertaining team set up and dynamics. Neat mention of Zhered-Na.
-a bit monotonous to dump 'Z-list' characters out-of-nowhere into Hood's MOE w/o footnote but on the other hand when would Centrius and Mandrill be used next in any story
-AWESOME Dormammu! Glad to see the Robbins '
typo
' fixed.A bit surprised this reveal was done in this mini but kudos to the writer/editor for getting the go ahead for it. Really
enjoyed the art
this ish (suitable style).
-hilarious Z-Pool/Garth partnership happening. Better than current D-Pool. Too bad the head has gots to go cuz the Zombie virus thing.
-great surprise to see the Night Shift again but on the other hand their 'sudden' reappearance smacks of the same lack of attention The Command got. Hopefully they get some origin details - why would they stay together after Shroud left? Wasnt Digger happy quitting to tell MAX stories?
Cool FURTHER clarification of just why The Hood has been so successful and powered with this control. (Redeems Tigra's loss A LOT.) Creepy being called 'poppet' by the Dreaded One. Glad that Talon is back with this 'new' spot on take.
-scary cemetary scene!! Theres an Eternal Legba, do we know a Papa Legba?
-aaaaand here comes the graphic stuff. Fanastic fight with both teams members getting props - especially Morbius. But on the other hand getting pierced thru the heart, a cracked open head, kicked in the jugular, shovel shivved in the back, burned alive, mystic fried, disembowelled, and vampire feasted on is a bit much. Plus iffff this turns out to be Three Stooges style violence by next issue that'll be disappointing.
-nitpick: Jen shouldnt be offended by her bikini or naked DM cuz she use to be a a proud working stripper!
-MORE Z-Pool/S-Man fun! Best line of the book: "
SHAMBLE LIKE THE WIND!
"
-aaaaand here comes the gorey stuff. So, we dont have to wait til next issue cuz: Midnight Sons are no worse for wear and the only way the Night Shift will return (and they will) is 'as good as new' magic.
-end pages too remind readers how threatening The Clutch are (with a kick ass final page especially taking the 1st page into consideration)
Quote:

I'm liking this new team, and I'm liking Jenifer Kale even more. Let's hope she becomes more of a regularly used character after this, that is, if she lives. This issue also features a team not seen in ages, The Night Shift. This was the coolest portrayal of the Night Shift I've ever seen. All of the team members were to be taken seriously, even Dansen Macabre who seemed to really kick *** for once. The all seemed to be a tough force, dared to be reconned with. They had the upper hand until Morbius went bat-**** insane and they got their tails handed to them. It seemed as if our team of "heroes" had killed them, but they all survived only to get killed by an airborne strain of the Zombie virus in the next panel.
Quote:

Too bad really. I hate it when characters are brought out of limbo only to be killed off (Darkstar, Goliath.) They could have beena really cool L.A. Initiative team under Norman's Dark Reign.

Really doubt theyre dead, dead.