Quote:

With Iron Man the secret ID was more of a hindrance than a benefit, but that was mainly given the way he set it up ( your bodyguard's almost never seen with you? Seriously? ). If he had given Iron Man a different " job ", then it could've worked a lot better; in fact, I think that there's something lost to the character when everyone knows it's Tony's face behind the metal mask.
That's true, maybe in-universe Tony doesn't need the secret ID like he used to, but conceptually, he's lost a step or two w/out it.
Quote:

I'm more peeved by the fact that the X-Men have jumped on it, especially since the San Fransisco move. It works better for Xavier to be an outed mutant than a faux-human mutant rights pundit, and there's definitely room for an authorized mutant hero team, but not what we're getting now with shiny happy mutant models deliberately posing for the cameras.
I haven't read enough of the San Francisco X-Men to really judge it, but I think Grant Morrison was on the right track when he started exploring the concept as less oppressed minority and more emerging sub-culture, overall. Armed to the teeth w/ Shi'ar tech, and having probably the largest most organized base of mutants in the world post-Genosha, I don't think the New X-Men really had to worry about their identities being public. Heck, the founding X-Men at least have had their identities public way before that, and most of the major X-Men don't have any ties outside of the mutant populace anymore.
Quote:

Fair enough, just that Thor would be a harder sell than any of the Marvel heroes put on film to date, and playing the Norse Gods on Earth totally straight would be very difficult.
I agree. Thor tends towards the more fantastical side of the Marvel Universe, and they really haven't attempted anything like it in film yet. It's Lord of the Rings meets Superman, basically.
Quote:

Ha ha! Though I have to admit I'm looking forward to the Millar/Pacheco Ultimate Avengers, especially for Gregory Stark. Then again, that's because the Ultimate books are being scaled down and returned to their original architects, as opposed to " classic Marvel - classic + crack ".
Millar's been losing it in my eyes bit by bit ever since Ultimates 2 ended/circa Civil War. Still, I can be tempted to check it out solely for Pacheco.
Quote:

Strangely the thing that bothered me the most about Ultimates 3 wasn't the horrible story or horrible art, but the fact that Iron Man ditched the Ultimate armor for a look that was basically a straight translation of his 616 armor. I loved the Ultimate suit, even if I wouldn't make it the mainline Iron Man's design ( mainly because Ultimate Tony's tech is far, far behind Marvel Universe Tony's, having to store the suit in a silo instead of a suitcase ), but it was very unique and impressive, and putting UIM in simple shiny red and gold tights felt like a slap in the face.
I actually like Madureira's art style, and that was the main incentive for me before a lot of Loeb's creative decisions started to kick in, like the (IMO, terrible) move of the Pietro/Wanda incest subtext to full, blown out, in your face, 'what, your not hip to it?' text.
And if what they've released of Pacheco's artwork for Ultimate Avengers is any indication, I think they'll be going back to a more Hitch-esque design.
Quote:

They all could to the job, but these anime dub voice actors get so type cast to one role that it's hard for me to envision them as much else. I just had an image of Balder screaming " Just Who The Hell Do You Think I Am?! " to Loki a la Hebert's Kamina from Gurren Lagann.
lol I actually wouldn't mind seeing that. If forced to settle on one as a first pick though, I'd probably shoot for Crispin Freeman first.
Quote:

Thanks. Splash pages are very difficult to pull off, so I'm glad I did it effectively from your perspective.
I think for an effective opening splash page, it can't just be a pin-up of the character - something concerning the plot and/or characterization must be conveyed effectively. Here, we get a mix of expository humor that still outlines who the characters are in a scene that was an outgrowth from last issue's plot.
I think it's not that dissimilar from the poster pin-up covers that did little to nothing to convey the contents of the comic for the last couple of years. For example -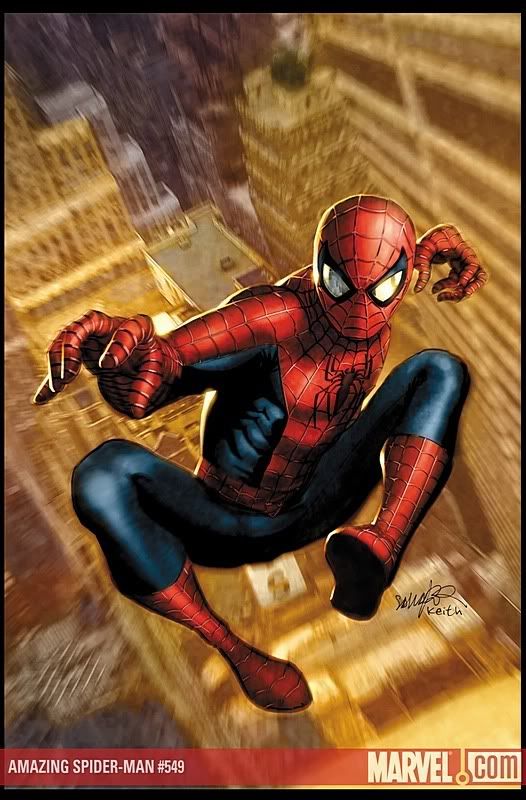 Sure, you can draw a picture of Spider-Man swinging over the city and make it look pretty, but it doesn't really tell me anything I don't already know. Worse offenders that immediately come to mind are the New X-Men #148 and New Avengers #3 covers that featured the Beast and Sentry respectively, despite neither of those characters not having anything to do w/ the stories contained in those issues. In NXM, Beast didn't even appear in the issue.
Quote:

As for other voices, here's what I've got for the Avengers ( current line-up );
Quote:

Captain America ( Steve Rogers ): Garry Chalk ( Optimus Primal, Man-At-Arms )
Quote:

Iron Man: David Kaye ( did an excellent job of Tony on that episode of the recent Fantastic Four 'toon, does a good metallic-toned hero with Optimus Prime in the current Transformers catoon, does just as excellent a metallic-toned fascist with Beast Wars/Machines Megatron if they do a Civil War cartoon )
Quote:

Wasp: Grey DeLisle ( did a good job of her in the Ultimate Avengers OVAs )
Quote:

Ms. Marvel: Debi Mae West ( Meryl Silverburgh in the Metal Gear Solid games, Tsunade in Naruto )
Quote:

Cage: Khary Peyton ( Cyborg in the Teen Titans cartoon, Bishop in the X-Men Legends games )
Quote:

Spider-Woman: Venus Terzo ( Blackarachnia in Beast Wars/Machines )
Quote:

Iron Fist: Johnny Yong Bosch ( former Red Ranger, now known for Vash, Ichigo, Sid, and other animation heroes )
Quote:

Captain America ( Bucky ): Yuri Lowenthal ( does a lot of mature-sounding young men, most notably Sasuke Uchiha )
Quote:

Sentry: George Newburn ( Superman in the JL cartoons; no coincidence to the choice )
Quote:

Wolverine: Steve Blum, and anyone who suggests otherwise is objectively wrong
Quote:

Spider-Man: Neil Patrick Harris ( was the only good thing about the MTV Spidey toon, and would do a job that would be Legen--wait for it--Dary! )
Quote:

Any others to fill out/edit the list?
A lot of those picks are really hard to top, particularly NPH as Spidey, Yuri as Captain Bucky, and Blum as Wolverine, not to mention I was also greatly amused by Newbern as Sentry.
All I can add are some Dark Avengers -
Iron Patriot(Norman Osborn): Either Ian Buchanan(Ultra-Humanite) or Jeffrey Combs(Scarecrow, Question)
Ms. Marvel(Moonstone): Tara Platt(Naruto - Temari)
Ares: Terrence C. Carson
Sentry: George Newbern
- Why mess w/ what works?
Captain Marvel(Noh-Varr): Michael Lindsay(Bleach - Urahara, Scryed - Mujo)
Hawkeye(Bullseye): Michael Rosenbaum(Flash, Deadshot)
Spider-Man(Venom): Robert Englund(Felix Faust, Riddler, Vulture)
Wolverine(Daken): Dan Woren(Bleach - Byakuya)