Quote:

When reading a recent issue of New Avengers, with Spider-Man whining about the Quinjet Carol Danvers confiscated from Norman Osborn because Stealing Is Wrong, and Clint Barton sternly reminding him of the stakes, it further cemented the status of Peter Parker as a naive, idiotic man-child in the presence of other heroes. This has been shown pretty much every time Peter has appeared in New Avengers, even before Mephisto retroactively put him back in emotional puberty; he can't offer the skills and intellect that the other Avengers have. On his own, Spider-Man's effective if relatively unrefined in his crimefighting, but he's just an amateur by contrast with the pros in the Avengers. So his effectiveness is limited and all he offers is lame witty banter.
That does sound like a rather odd thing for Spider-Man to say considering the amount of times he himself has stretched the law, like, oh I don't know, beating the crap out of a pair of cops because they were hindering his pursuit of the Shocker -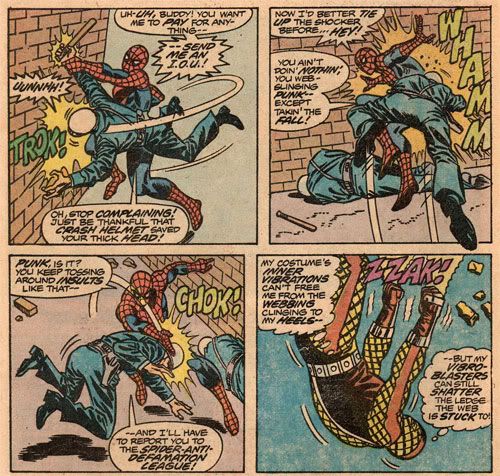 On the other hand though, I can somewhat understand Spider-Man's portrayal that way. Traditionally, the Avengers fight far more grandiose menaces than Spider-Man, who is more often than not usually 'street-level'. That's not to say Spider-Man doesn't have experience in dealing w/ cosmic matters, but it's certainly not his area of expertise in comparison w/ many of the Avengers, even if they're underpowered when compared to him(like Clint Barton). Not to mention that, similar to your criticism of Beast on the Avengers below, when compared to the likes of Hank Pym, Reed Richards, Tony Stark, T'Challa, even Dane Whitman, Peter Parker is on the low man's end of the Avengers intellectual totem pole.
But this team isn't your traditional Avengers. Of course, on the current New Avengers roster, he just might be the smartest science guy there, but they don't seem to particularly need those talents of his. In terms of power, I consider him to be up there on the current roster, but in terms of experience, despite being an actual superhero longer than most of the others there, the others come off as far more professional in terms of background experience. Bucky was an army brat who rolled w/ Cap back in WWII and was a Russian operative, Wolverine is Wolverine, Mockingbird was a SHIELD agent, Spider-Woman was a Hydra agent, and Ms. Marvel was in the Air Force and CIA. Clint Barton seems to be getting by as the longest serving Avenger there.
Though I still don't get why one of the world's greatest marksmen is using an identity/gimmick that doesn't utilize his greatest talent(at least as Goliath he had the size-changing powers as a substitute for his bow and arrows), but hey, that's Marvel.
But to get back to Spider-Man, while I don't like how on the New Avengers he comes off as merely a mouthpiece for verbal banter that isn't all that funny, I can understand, to a limited degree, why that happens. On a traditional Avengers team, he just isn't that smart or powerful compared to characters like Iron Man or Thor, while on the Bendis team, he isn't 'hardcore' enough on an Avengers composed of ex-cons, former supervillains, soldiers, government agents, assassins, and their like.
Quote:

This made me also remember the difference between the Beast in the X-Men and the Beast in the Avengers. In the X-Men, Beast is not only one of the originals with more experience than most X-Characters, but the #1 science guy, a talented melee fighter, and a source of moral support. In the Avengers, they have access to many more science guys ( Tony Stark, Hank Pym, Reed Richards by telecommunication, T'Challa, etc. ), so he just cracks lame jokes and buddies up with Wonder Man in the most homo-erotic way possible. Similar effect; he can't compete in skill, so he plays the nice guy/class clown.
On the flipside, when Beast gets relegated to science guy in the X-Men, his characterization can suffer just as much. While a mainstay of the team, he arguably gets better development and character interaction when he's NOT portrayed as the smartest guy in the room. For almost the entire stretch of the Lobdell X-era, he was relegated to the X-Mansion's labs and whitecoats for so long, no one on his own team noticed he was replaced by an evil doppelganger for awhile. Despite the most overt cosmetic changes, he was the least developed and focused on member of the New X-Men cast, w/ his 'I'm gay' plotline effectively dropped after not really going anywhere. It almost seems like the x-books hold on to him as tightly as they do because plot-wise it's convenient to have a scientist n the team, and he's simply the most readily available option. Despite being overlooked for his intelligence while on the Avengers -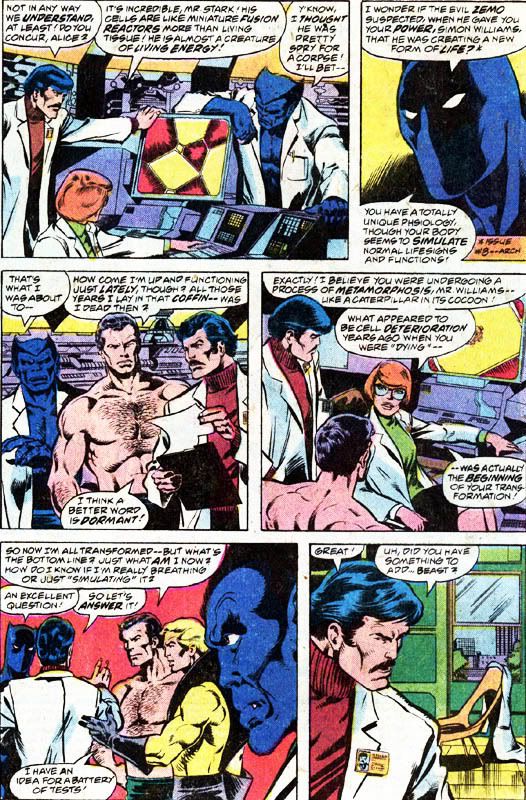 It did free him up for more character interaction w/ many of the others, like Hellcat, Ms. Marvel, Scarlet Witch, and most notably the aforementioned Wonderman(oddly enough, another overlooked intellectual as an, albeit failed, engineer/entrepreneur) -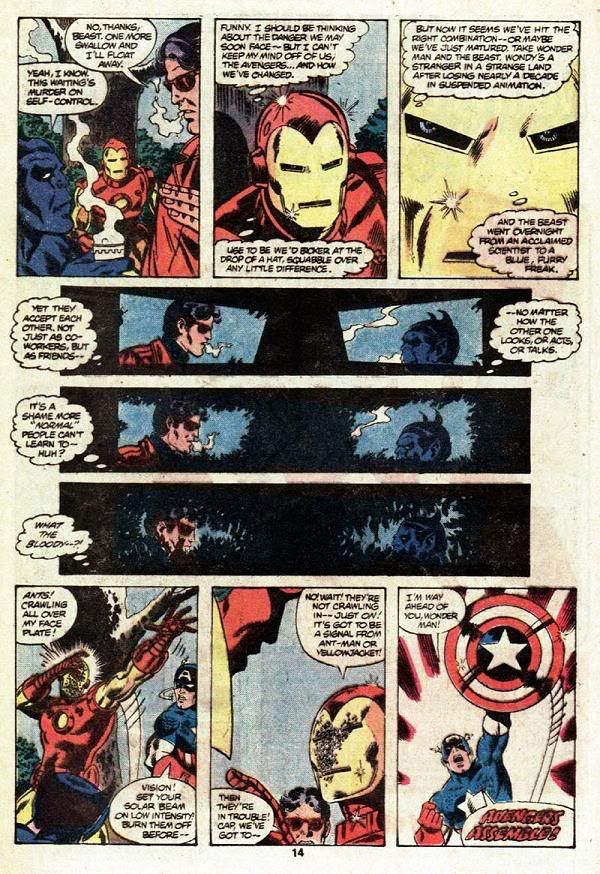 And nothing I've read has suggested that he isn't just as talented a melee fighter on the Avengers as he is on the X-Men.
Plus, on the Defenders, Beast was also one of the more experienced characters, but unlike most of his time in the x-books, he was also portrayed as a viable authority figure there, and on X-Factor, he had to deal with a variety of plotlines, ranging from the transformation of his body, loss of his intelligence, and romantic relationships w/ Vera Cantor and Trish Tilby.
Quote:

And, of course, there are cases like Cannonball's first X-Men tenure and Justice's attempt to join the Avengers, where they're so captivated and starry-eyed to be part of the big leagues that they become self-conscious and screw up constantly. Can anyone think of other cases where a hero who's effective on their own or on a lesser team is portrayed, intentionally or not, as an idiot when in the big leagues?
The Cannonball and Justice examples are really unfortunate since all it did was hurt the characters, IMO. They weren't complete noobs to the game, otherwise they have had no place on their respective teams, yet because they were so star-struck at making it to the big leagues they came off that way. The Avengers did a much better job w/ another earnest, sincere superhero w/out making him look like a total rookie when Quasar joined, and I still hold that in-universe, nobody would be all that starstruck at joining the X-Men.
I'll give it some more thought later as to which other characters I thought came off more like idiots when on a team.