Previous Post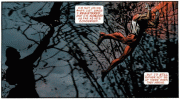 As seen from this uptodate panel of Cap the SHRA
still
seems a poorly executed status quo from its official start date. Its hard to articulate all the
still
bothersome aspects of it.
It seems defeatist that superheroes that register can operate with free agent status considering the purpose of the blanket protection intent of the Act's conception.
So, it allows Falcon, Heroes For Hire, Jackpot, etc. play samaritan in good conscience while Bucky-Cap, Peter-Spidey, Clint-Ronin, etc. cannot (
basically
it seems) all for lack of revealing their name since no training, restrictions, or penalties have been evident.
Another confusion is Norman going after Tony because he is erasing all evidence of the names of Registered Superhumans. Why? They should still be apart of the established SHRA system and if lost just have everyone verify their original info supported.
Norman has been almost
magically
been able to locate intel on many character most likely courtesy his Director privleges but cant even see that Ant-man registered under an alias? The system is
still
flawed by their POV too. Obviously there has been lots of evidence of a messy transition from SHIELD TO HAMMER security in many stories. Makes for storylines but shows that not enough attention has been focussed on the National Security which was the whole point in the shift in atmosphere since Civil War.
Meanwhile DD continues to seemingly ignore the SHRA and it seems to continue to ignore him to keep the confusion of the plotline free of his title. Harder to appreciate his part of the shared Marvel Universe this way.
Kudos to the MK run 16-19 IIRC for at least
trying
to spotlight SHRA protocols and secret identities - not that it went smoothly.
eg.
http://marvel.com/comics/onsale/lib/view2.htm?filename=/i/content/st/2746new_storyimage4304594_full.jpg
   -http://members3.boardhost.com/ArchieComics/msg/1213529196.html
Now, criminals like Hood and his S.O.C. are in the Initiative. Sure, Norman mustve pulled strings but there should be instory pardons or footnotes shown. The public cant be
Other sources of confusion include: 42, pre-HAMMER TBolts vs post-HAMMER Tbolts mission statements, origins of The Order,
Pointer
, Blue Marvel, Urich having such a hard time finding enough evidence of Act violations to run a story, untouchability for anyone standing on a Reservation (or Asgard), the mutants free ride, etc.
Anyways, that Cap panel got the pet peeve pumping and felt like typing/rambling. Curious if readers (
still?
) have problems with the SHRA as is. Thoughts?
In fairness, Tony deleted all the database to protect those heroes that wouldn't sign back up with Osborn running the show rather than himself... but did so in a way that Osborn had to willfully abuse the system before it would take effect. Those still wanting to stick with the system may re-verify themselves, but then the choice is on them, rather than on Tony for promising them to keep their secrets from villains and then being unable to support it.
EVERYONE we've seen go "free agent" has apparently passed the training, or was exempted from it due to previous government service, to my knowledge. Jackpot's the only new hero we've seen under this, and it seems fair to me to assume she was trained at the same time as the original Order, Gadget, and Paragon. (i.e., before anyone else noticed.)
Norman knows Ant-Man registered under an alias, since Tony and company had caught that earlier, (unless Tony deleted that too), just not that Ant-Man falsified how he got the suit, according to the Thunderbolts issue. It also doesn't hurt that nobody is around to contradict Ant-Man's story of how he got the suit... everyone that knows better is either dead or in no position to argue.
As for Daredevil, recent interviews show that Norman's been preparing to move on him in force, so his days of ignoring the SHRA are done. As for why Tony let him slide, that seems to be fairly obvious: Matt's created such a public firestorm the last time anyone accused him of being Daredevil that no sane man would get drug into trying to prove it again... especially a man that knows Daredevil's professionalism and doesn't particularly care if the act's enforced when there's a legitimate reason to ignore it, like Tony was.
Not sure at all what's so confusing about Area 42 at the moment, although DURING the Civil War it was pretty confusing. Right now, it's a Blastaar-occupied outpost and lost to Osborn and HAMMER.
Does the public know that there IS a post-SI Thunderbolts? It was my understanding that they were a secret.
The origins of the Order seem pretty well explained to me. What's the problem with it now? (MY problem with the Order is that they still seem to have their powers post-SI, when it was Starktech that allowed them to have them, and all Starktech's gone now.)
The Blue Marvel's bit doesn't seem so bad either. He's legally too old to force into government service now.
Same for the Reservation or on what is legally foreign soil... the US's Superhuman Registration Act fails there. Urich not being able to find evidence of Act violations makes sense, if you realize Norman's killing anyone that knows too much about what he's doing, which makes perfect sense. As for the mutants, they are ALL legally registered, by Executive Order as part of the 198, so until they violate the terms of that, they got a free ride. Under Osborn, they got a free ride because he and Emma cut a deal behind the scenes. Makes sense to me.
TJB