Quote:

Registered Superhumans may not want to give their information (whereabouts, secret identity) to Hammer/Osborn now, but would have been willing to give it to Stark. Stark currently has a lot of vital information in his head, information that Osborn doesn't have access to. I don't think replacing that information is easy to do.
Still seems inconsistent. Wouldnt it be as easy as making someone resubmit info when reapplying for an expired license?
Spidey's BND-secret-identity aside, if Director Norman wants a Registered Heroes information for personal vengeance or National Security reasons
he
should
be able to get more than a codename and power description thru the SHRA from how the system was set up it seems.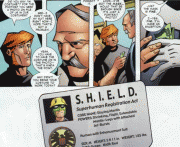 Especially if [online quote:] "Tony had placed a virus in the SHRA database, preventing Osborn from learning the identities of any registered heroes."
Quote:




Quote:

untouchability for anyone standing on a Reservation (or Asgard),
Quote:

Not sure where the confusion comes from some of these. The SHRA is a US government act, while Indian reservations have limited national sovereignty, and aren't subject to all US laws. Mutants were excused under the act original provisions of the SHRA, and were instead registered separately under the Mutant Registration Act. I don't think we fully know what the MRA is.
Found it bothersome that Mrs Rhodes (or any non-Native American) was allowed to move onto a Reservation and get a 'get out of jail free card' simply by moving onto a reservation as seen in
WM#6
.
http://comicbookresources.com/?page=preview&id=2667
Sidebar: Does anyone know how many official Indian Reservations there are in the USA?
Quote:




Quote:

Curious if readers (still?) have problems with the SHRA as is. Thoughts?
Quote:

The SHRA is a great idea for the comics, becoming a springboard not just for stories, but for entire titles (like the Initiative).
That's true.
Quote:

The idea of having registered teams across the US is also a great idea. From a logical/realistic perspective, things like making the heroes accountable for their actions and training new heroes just makes sense.
Quote:

But the execution of the idea needs alot of work. One huge problem is the inconsistencies in the titles over what the act does.
True too. Hating this about SHRA.
Quote:

Mandatory registration isn't a good idea for the comics, but there should be a clear benefit for being registered (training, salary, resources).
Would be nice to get an official list/reasons which heroes were exempt training. That MK arc tried to touch on that in Marc's case.
Another bothersome point for months now, is the salary you mention; have still seen no instory reference (re)confirmation if Initiative paid a salary to any Registered heroes yet. And the related aspects/conditions. Jackpot's 616 existence was in question for me at the time Mrs Rogers was introduced.
---
OT: Never read The Other (yet) so it was a difficult matter of recognizing it - thanks for XMB reply.