Well, its got to be better than...
Deadpool 12
"offers NO enabling link"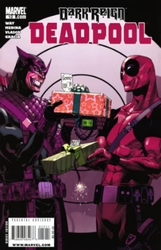 You expect a certain degree of Bugs Bunny violence and usually get that over the top, with DP, but that ending was
...shameful.
Especially for this title character. At least DC's Vigilante didnt come back from his motivated self destruction but rest assured DP will try to comically top himself with guts and gore and gratuitous sprinkles - for at least 900 issues. Some of the Bullseye stuff worked okay to be fair - but if that was an actual flashback with any basis in fact then that was
...disturbing!
Negatively commenting on the issue will probably
help
sales but still curious who thought it sensational and who else thought it
...sensationalistic?