NOVA 28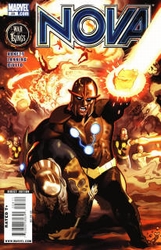 Havent really been a fan of the Nova Corps copycat concept [ala the GLC] but the NEW NC fate here was handled well enough - espcially since their retcon(tamination) exists now and there seems no going back.
And it did not detract from the excellent issue one iota. From the rocket tail detail (on the 'Human Rocket' page 1) to the last page image detail (with respect to the Human Rocket's canon). ALL of its story and art and cover and characters appearing (including a certain welcome Starjammer) and WOK crossover care (but is this before or after Initiative arc) and element of family and the big FIGHT!(
http://www.comicboards.com/app/show.php?msg=comicbattles-2009082221293091
).