Previous Post
DD 026
An engaging DD storyline [as evidenced by strong sales:
https://www.comicboards.com/php/show.php?rpy=smb-2021013121472569&layout=thread9
] and his 2 years prison sentence is unfotrunately interrupted by a uninspired attack by symbio-pawns of Knull and the KiB Event. As is oft the case, it's a shame this title is disrupted and diminished by a mandatory company crossover. We don't even get a proper Recap Paragraph with the Title Page
https://abload.de/img/1611744295688t7kgv.jpg
to explain this goopy mess to dedicated exclusive readers. It's not even clear if the alien Klyntar aren't typically afraid of fire, that is Typhoid's power, or she just never got a good shot off. Have the lack/change of Kryptonite Weaknesses of symbio-pawns been formally addressed in-story in another crossover yet?
Inmate Marcus and Warden Hollis were dull here. The Crime-Wave v1#59
https://marvel.fandom.com/wiki/Daredevil_Vol_1_59
footnote was welcome. Kingpin and Wesley gave us nothing but recycled chronologically-challenged status quo. Was this before Fisk's Thunderbolts #1 team? Alice and her mom were underwhelming as new fodder characters. And neutered Elektra(as DD) was predictable.
The art was okay. DD possessed seemed the inevitable superhero fail for a cliffhanger. Was DD ever a symbiote host before? And the next issue promise is a Marvel hero clash between Venom Vs Daredevil! ...*koff* Well, really Venom(Typhoid possessed) Vs Daredevil(Elektra filling-in).
https://marvel.fandom.com/wiki/Daredevil_Vol_6_26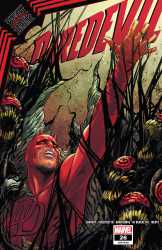 ---
Support Cancer Research and Alzheimer Research and COVID Research.
I think the issue selling out has more to do with the new status quo, and the speculator market.
That having been said, I am actually interested in this new direction. Much of the run so far has just been having good ideas that fizzle out, or rehashing ideas I have seen before. Even Matt in prison was done before, and everyone thought he was Daredevil at the time, so whatever there.
The annual where Mike Murdock got a life was the most entertaining where I am concerned, because it was different, and actually explored things.
However, I never read many solo Elektra stories, so they can rehash all they want, and it will still be new to me. If nothing else, her interactions with DD's rogue's gallery or other heroes would be interesting. Certainly different than if we had more followed Iron Fist in Brubaker's run.
Not to mention just what Mike Murdock will be like as he fills in for Matt. He is more or less a blank slate for possibility.
However it seems pretty obvious Matt will return in #666, and either Elektra or Mike Murdock will die at that point, given the whole Fist thing.