Previous Post

I thought it was interesting, and I don't normally read Doctor Strange comics at all. I know his basic history and abilities, and saw the movie. A very well done story, I just hope he doesn't stay dead permanently. I wish I had theories on who killed him; as it was some magic-user who pinned him up and stabbed him through the heart. Not sure if I'll go beyond just the five issues, and get all the tie-in comics, but who knows?

Thoughts?

Overall, this was a positive start for a mini for me... Nice cover and inside art. Koschei the Deathless factor. (IRL informative:
https://en.wikipedia.org/wiki/Koschei
) Revisiting lovable Bats. Photo of Clea (even better is solicit for next ish:
https://www.gamesradar.com/death-of-doctor-strange-2-preview-covers/
). Although Wong seemed peevingly/blissfully 'reset', this is the charming version of the Major Domo. Continuity of Stephen as a reformed surgeon again worked into his characterization. Eg. He thought of his other patients instead of pumping his ego after a successful surgery. Nice nod to canon with Return of
https://marvel.fandom.com/wiki/Pavel_Plotnick_
(Earth-616) AND Cinnibus
https://marvel.fandom.com/wiki/Cinnibus_
(Dimension). Welcome shared universe nod with Strange Academy. The "A Day In the Life" sequence (hopefully took place over several days) neatly shows the all encompassing scope of Doc's higher duties which is often minimized/overlooked. The murder mystery starts mysteriously! Interesting to see the MU reacts at time of death particularly Thor and Reed (even though this hasn't happened before AFAIK). Two headed deer reaffirms Canada and Shaman would be fun to revisit. Mordo teaming up with
https://marvel.fandom.com/wiki/Kaecilius_
(Earth-616)?! The mystery grows. Zelma still around. Curious Interdimensional Incursions resulting - simply from barriers dropping from the death of a Sorcerer Supreme (even though this hasn't happened before AFAIK). Nice surprise backup plan with future Doc's surprise last page entrance (hopefully there will be time travelling deets/context used in the defunct Doctor Strange and the Sorcerers Supreme).
It would've been nice to get more footnote clarity of Doyle's remarks with The Last Annihilation Event - Doc never knew about it?! Even though Magik is a fan fave, it's annoying to rationalize her fraternizing/mentoring non-mutants in light of the whole Krakoa Garbage-Run. The revolving door cameo of recyclable Piledriver from
Fodder
Wrecking Crew was a revolting choice as cameo crime. And WTH?!?! Someone using an Avengers Identicard?! Normally this would've been for the previous "positives" paragraph - but Doc's membership is so debatable since Aaronvengers has messed up things. Presumably Cap unlocked it from his end to allow Zelma to use it, eh?
Preview Death of Doctor Strange 001 (of 5)
https://www.comixology.com/Death-of-Doctor-Strange-2021-1-of-5/digital-comic/950381
https://graphicpolicy.com/2021/09/18/preview-death-of-doctor-strange-1-of-5/
https://www.marvel.com/articles/comics/death-of-doctor-strange-1-trailer-preview-pages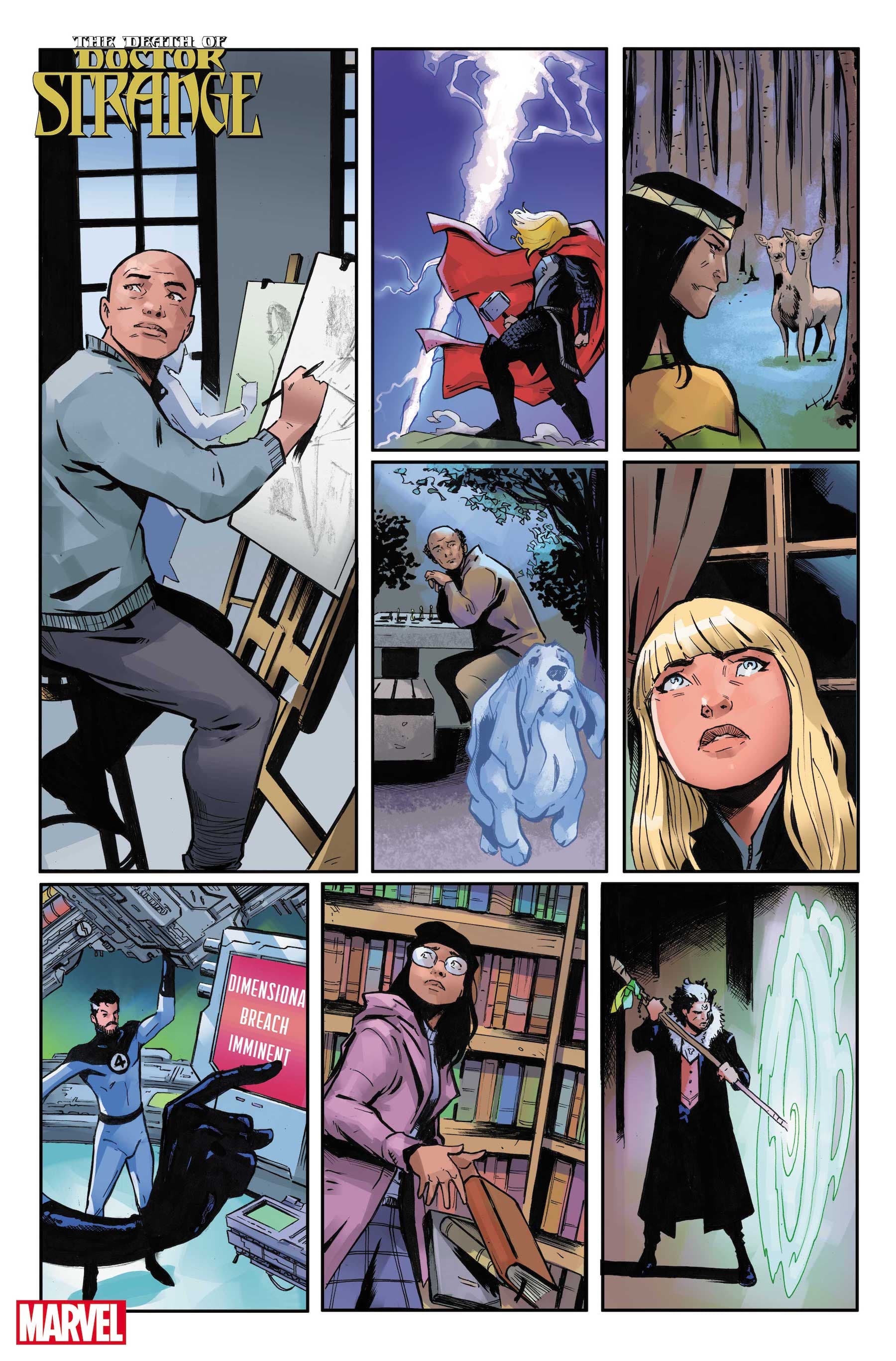 ---
Support Cancer Research and Alzheimer Research and COVID Research.
[EDIT]BTW: Did Doc ever canonically say "ZOUNDS" in an old Strange Tales ish or somewhere?