Previous Post

Mary Jane/Black Cat

The Hood wants his cloack back and threatens Peter Parker to get it. MJ and Felicia pull off a heist and take the cloak back from Tombstone, but it ends up consuming The Hood

Amazing Spider-Man#87

Peter begins to get his groove back training with Captain American and Felicia, while Ben is subjected to Beyond's memory reboot and Kafka is interrogated


My thoughts:

Two solid issues of Beyond today

1. MJ/Black Cat: MJ gets to knock out Shocker with a baseball bat (we only get to see the aftermath), which is a great call back to one of her iconic late 90s moments, then she uses her Hollywood gossip to get some information out of her fanboy Count Nefaria, then she disguises herself as Black Cat and steals The Hood's cloak from Tombstone (this feat and encounter may end up being important in Zeb Well/Romita Jr's ASM run and foreshadow the tease from 'Timeless'), lastly, MJ and Felicia discuss what attracts them to Peter and the answer, while spoken in intended jest, is something MJ would never really say about him. Felicia maybe, but not MJ.

2. ASM 87: The callbacks continue, Peter trains with Felicia and Captain America, bringing back his iconic Bag Man costume as MJ won't let him have his suit back until he's ready. The art is absolutely sublime, probably the best for the Beyond books so far on the whole. Maxine Danger meanwhile interrogates Kafka and decides to use her jar of demon maggots on her. Kafka is a clone so she has no basic human rights in her eyes, they can do whatever they want with her! I think this is Marvel finally walking back on "clones are just the originals" nonsense established in Clone Conspiracy. MJ, still wearing the Black Cat costume, returns to her apartment and finds Elizabeth/Janine waiting for her with the hard drive that Ben stole from Beyond. I believe this is the first encounter between Peter and Ben's love interests

Mary Jane & Black Cat: Beyond 001
This issue was SO MUCH better than Ben sitting/looking at a list of Rogue Gallery names for
20
pages and Peter wearing a paper bag on his head for a
5
day low-impact,Cap-Cat, shameful workout, all that happened in ASM #87. Oh, and Maxine still has a hold on Cloney Kafka; both were also sitting/nattering for
2
pages.
Back to Red & Hardy... This issue was fun. Sure, it was all forced badass-women positive air. Plus, the ambitious overlap timeline with ASM #87 was a bit unnecessary/disorienting. And the comical interaction/interrogation with
Count Nefaria
seemed to suddenly go nowhere. But otherwise, it was fun. A dynamic sexiness to the art. A welcome done-in-one update and status quo change for The (neglected) Hood. Guest villain cameos galore. Bruno and Doc properly included. Tombstone gets villain props even with his typical fumbling. Entertaining dyanmics/interactions between the 2 protagonists; not to mention, spot on observations of their roles played in Spidey's life. Feel good ending - but hopefully, we will be told what BC does with the Dufflebag Demon.
Hot Variants:
https://leagueofcomicgeeks.com/comic/6516344/mary-jane-black-cat-beyond-1
=}thumbnails attached (Pick a favorite? FYI: The answer is the
Hughes Variant!
)
Twitter:
https://twitter.com/Cfvillaart/status/1484254317938978828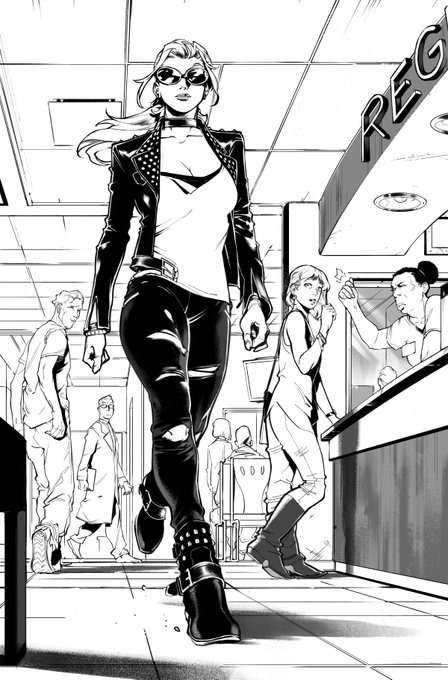 Reddit:
https://www.reddit.com/r/Spiderman/comments/r8bkhu/sneak_peek_at_mjblack_cat_beyond_1/
MORE:
=}scans-daily.dreamwidth(dot)org/9529508.html#cutid1
=}twitter(dot)com/bestofmjwatson/status/1486339226992095240
https://m.comixology.com/Mary-Jane-Black-Cat-Beyond-2022-1/digital-comic/972319
https://www.jscottcampbell.info/wp-content/uploads/2021/12/mary-jane-black-cat-beyond-1-1-1050x1313.jpg
---
---
Meanwhile in Black Panther #200!...
https://www.comicboards.com/php/show.php?msg=blackpanther-2022013000342958


I miss Dad & Dan.