Quote:

 Cite those multiple occasions. Post some pics or tell me the comic, I have them all. I have seen him flying so many times and thrown his hammer threw multiple enemy planes, as well as seen him flying and thrown it at enemies to not immediately start falling. Never once have I heard this.
The references to his needing it to fly are absolutely correct, I am just saying it is silly because he does in fact throw it from the air a lot. And to me personally there is no reason he shouldn't be able to fly with his pedigree. The throwing and catching is even more ridiculous since he indisputably hovers all the time.
I was going through the issues of THOR a year or so back in connection with another debate.  Flight was one of the things I was noting as I went.
Some of the references I have listed are: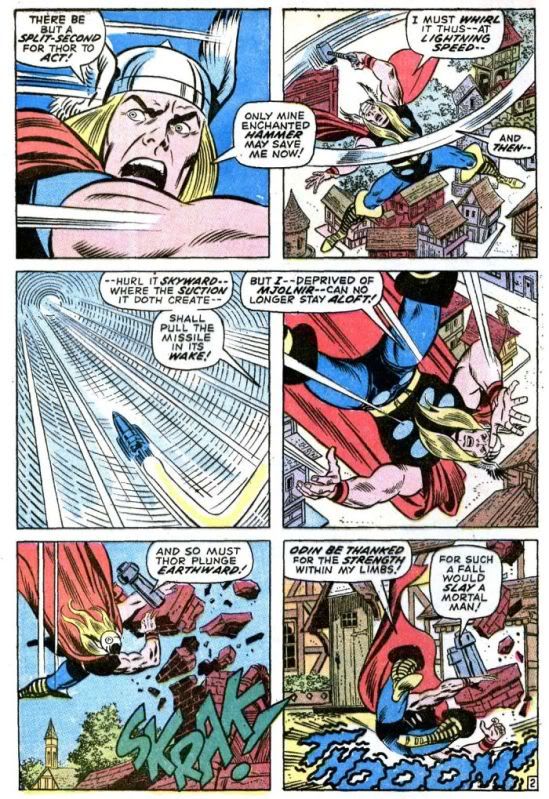 Avengers #98- In mid-air, Thor hurls Mjolnir towards Ares. Scarlet Witch, ensorcelled, traps the hammer in a hex sphere. Thor falls to Earth… with a little help from Iron Man, who says, "You'd fall to Earth anyway, Thor, without that croquet mallet of yours to keep you aloft…"
JIM #92- Thor falls to the ground after throwing Mjolnir. "Without the speed of my hammer to carry me along, I'm losing forward momentum! I'm… falling!"
MT #247- Thor begins falling towards the ground after tossing Mjolnir away. N: "-- and without his enchanted weapon to support his flight, the exiled prince of Asgard swiftly plummets--"
MT #267- In mid-air, Thor hurls Mjolnir at a fleeing aircraft. N: "While, without his enchanted mallet to sustain his flight, the mighty Thor plunges Earthward--"
I have a lot more scenes where flight is attributed to his hammer and there are more besides-- I just never got around to finishing the run-through.  In Simonson's run, for example, is a scene where Thor, without Mjolnir, is falling towards a pool of lava and has to summon Mjolnir to save himself.
I'd like to see the references where he's shown hovering without Mjolnir in his hand.